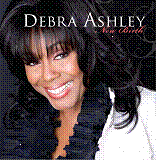 Debra Ashley's "Do It Afraid" is a sweet, inspirational ballad about maintaining faith and courage in the face of everyday adversity. The singer's lullaby-like delivery imbues the song with the intimacy of maternal wisdom.
Debra's highly anticipated sophomore project will minister too and uplift souls. Debra wrote seven of the songs on "New Birth". Grammy Award winning producer Kevin Bond and Dove/Stellar Award winning gospel producer Fred Hammond assisted in producing cuts on this project.
In addition to singing the gospel, Ms. Ashley has formed her own label, Angel Calling Entertainment, LLC, and opened the full-service Angel Calling Recording Studios in Jacksonville, Florida. Her company and studio, named for the prophetic vision that led her to pursue gospel music later in life, seeks to produce and nurture young, emerging talent.
So get ready for a "Praise Party", because "He's Able" to help you "Do It Afraid". Listeners can expect a more mature album because of Debra's closer relationship with Christ and her renewed vision with God.
"New Birth" is now available in stores, including Wal-Mart and at iTunes, Amazon, Christianbook.com, CD Universe, Best Buy, Stylefeeder.com,  www.habakkukmusic.com , and on the www.debraashley.com website.