The STAND-Jesus Rally in Washington, D.C.-August 21, 2010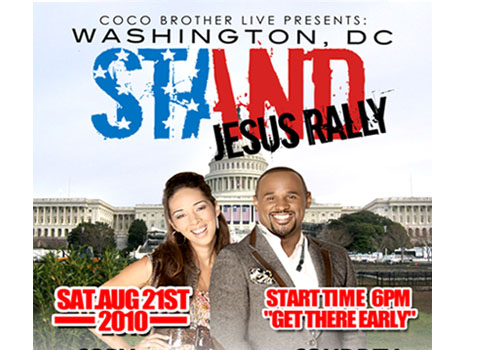 On August 21, 2010 in Largo, MD-Corey "Coco Brother" Condrey along with Joann Rosario Condrey and many more National Gospel Recording Artists will rally for Jesus at the DTLR Urban Retail store at 6pm. Fresh from an Anointed and Successful Jesus Rally in Richmond, VA  the Stand Campaign is now headed towards Washington D.C. The Richmond Jesus Rally was attended by thousands in anticipation of God's Spirit to rain down.  Condrey is hoping for the same result this weekend.
Washington D.C. Jesus Rally location:
DTLR Retail Store
The Boulevard at the Capital Centre
821 Capital Centre Blvd.
Largo, MD 20774
For More Information Call: (301) 336-0608
Coco Brother is not just sounding off nationwide over radio and television on Coco Brother Live, The Spirit and BET's Lift Every Voice, but he is staying true to his ministry call by hosting Jesus Rallies in the local communities across the country. These outreach events were created to give everyday individuals a chance to be part of the nationwide Stand Campaign. While not every one is afforded with such a public platform as Condrey, he believes anyone can still reach out to lost souls and make a major impact.
The Jesus Rallies, which include exclusive performances and Meet & Greet opportunities, are partly made possible through a unique partnership with regional clothing retailer DTLR.  In addition to providing the latest in urban fashion, DTLR also engages in community outreach initiatives geared toward at-risk youth.
Coco Brother's groundbreaking project Coco Brother Live Presents Stand 2010 features songs and inspirational moments from some of today's top gospel artists such as BeBe Winans, Israel Houghton, James Fortune & Fiya, Joann Rosario Condrey, and Tye Tribbett.
If you are interested in partnering with the STAND Campaign and for more Jesus Rally dates, please contact Clive Ennis at (770) 573-2643 and visit www.thestandcampaign.com