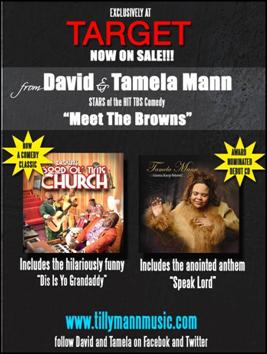 Los Angeles, Calf. — Husband and wife comedy duo DAVID MANN and TAMELA MANN of the top-rated sitcom Tyler Perry's "Meet The Browns," re-released two of their best-selling CDs – David's comedy CD "Mr. Brown's Good Ol' Time Church" and TAMELA's Gospel CD "Gotta Keep Movin'" – exclusively at TARGET July 27th.
"Mr. Brown's Good Ol' Time Church" featuring DAVID MANN's beloved character "Deacon Leroy Brown" a.k.a. "Mr. Brown," is a comedy classic that includes the hysterically funny sketch "This Is Yo Grand Daddy!"  Recently nominated at the 10th Annual BET Awards for the "Best Gospel" award for her latest CD "The Master Plan," TAMELA MANN's first-ever solo project "Gotta Keep Movin'" features the anointed anthem "Speak Lord," and spawned a Top 20 Billboard Gospel chart hit and 2008 Stellar Award nominations for Female Vocalist of the Year and Contemporary Female Artist of the Year. Both titles, bestsellers when they were initially released, have since been unavailable until the re-release through TARGET stores. TARGET will heavily support these two titles with advertising in their summer circular and in-store presence.
TAMELA and DAVID currently co-star on the #1 rated television show for African American audiences, Tyler Perry's "Meet The Browns" as father-daughter duo "Mr. Brown" and "Cora." They both originated these roles in the hit movie of the same title, and co-starred in the roles in other Tyler Perry films including "Diary of a Mad Black Woman" and "Madea Goes To Jail"; and his plays "I Can Do Bad All By Myself, " "Madea's Family Reunion" and "Madea's Class Reunion."
In addition to DAVID and TAMELA's many upcoming concerts and comedy shows, the couple begins shooting the new season of Tyler Perry's "Meet The Browns" and a new Tyler Perry motion picture in September. They will be appearing in the 81st Annual Bud Billiken Parade August 14 with the rest of the Tyler Perry's "Meet The Browns" cast. The parade historically is seen by more than 1.5 million people along the parade route and 25 million TV viewers.
Prior to their successful solo careers in music, comedy and acting, DAVID and TAMELA MANN first teamed up with three-time Grammy Award-winning Gospel sensation Kirk Franklin as a part of his group, The Family. Revolutionizing the pulse of Gospel music, Kirk and The Family made history with platinum selling CDs, sold-out concerts and top Billboard charting singles. In fact, TAMELA was the featured soloist on the Grammy-nominated "Song of the Year" – "Lean On Me," which featured Mary J. Blige, Crystal Lewis and Bono.
After releasing 2 best-selling music CDs, TAMELA released "The Master Plan" on Tillymann Music Group, which debuted at #2 on Billboard's Gospel Album chart. She recently performed "Joy of The Lord" from "The Master Plan" on the nationally televised 2010 NAACP Awards in which she received a standing ovation. DAVID continues his comedy tour in sold-out venues around the country. Divinely gifted and humorously creative, his musical and theatrical talents brilliantly epitomize ingenuity at its best.
For more information on DAVID MANN and TAMELA MANN, visit www.DavidandTamelaMann.com . Get all the latest news and updates about DAVID and TAMELA by following them on www.Facebook.com/DavidTamelaMann and on Twitter at www.Twitter.com/DavidandTamela .