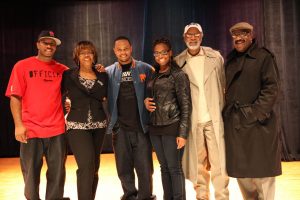 Lincoln University was the first historically black university to grant degrees and was also alma mater to famous faces such as Supreme Court Justice Thurgood Marshall and bandleader, Cab Calloway. Now, the Pennsylvania-based institution has become a historical footprint on the career path of Hip Hop minstrel, Christawn, who launched a college concert tour in support of his latest CD, Life Story  (Abundant Harvest Entertainment), at the university this past Monday night.
Fans and students jammed the Ware Center Theater on campus to see and hear the rapper chug out an hour-long set that included his radio smash, "Save Me." That guitar-frenzied track features Micah Stampley singing the hook and retells Christawn's exodus from a life of drug dealing. That and the other beats he performed had the audience on their feet and bobbing their heads throughout the night. "The crowd was into it and it flowed real nice," Christawn says. "I think it was one of the best concerts I've had so far and it really felt good to get the tour kicked off."
Prior to the show, Christawn did a round of interviews, including one with Lincoln University students Khadeem Hughson and Dexter Stuckey at the campus radio station, WWLU 88.7 FM. Christawn's family also came out to support him for the show. His mother Denise Womack, father Wilson Womack, brother Brett Womack aka Lokey, and his sister, Brooke Womack were all in the house. Also, Al Edmondson, from Abundant Harvest Entertainment, was on hand to make sure things for his rising star were in order.
"Save Me" was recently featured on the "Play it or Fade it" segment on Radio One's nationally-syndicated program "The Coco Brother Live Show." The audience called in and overwhelmingly voted for the song to be played. "It talks about what I was doing at different points of my life in the streets," Christawn explains. "That's the closest song to my heart because it brings me back to where God brought me from… I want people to know this is where I've been. A lot of my life story started right there in the streets. I can't sugar coat it because this is what's going on in the lives of many people today…This isn't just about smoking crack…. I was literally around killing all day long and going home and crying at night praying to God to save me."