"But I Had A Praying Grandmother":
Biopic Feature Film About Gospel Artist Helen Baylor In Development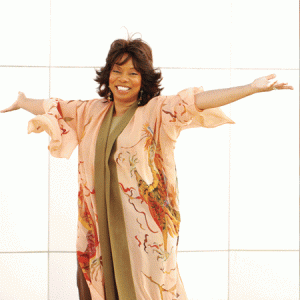 Dove and Stellar Award Winning Gospel Artist Helen Baylor and Award Winning Filmmaker Cassandra Hollis announced that they are co-producing a Biopic Feature Film about the life of Helen Baylor based on her book, No Greater Love: The Helen Baylor Story and her famous testimony as told in her song, "Helen's Testimony." They launched a crowdfunding campaign today via Indiegogo.com and hope to raise $6,000.00 for the Development phase of the project. The name of the film is, A PRAYING GRANDMOTHER: THE HELEN BAYLOR STORY.
In 2009, Baylor saw Director Cassandra Hollis discussing her films on a local talk show. She immediately said to her husband, "She's the one." Helen knew she had found the person to help bring her life story to the big screen. She reached out to the filmmaker via the television station and Hollis was thrilled.
"I am fully aware that God has orchestrated all of this. This story is so rich and powerful that it is a Director's dream. More importantly, we want the film to touch and Bless lives just as the song and her autobiography have. I'm honored she chose me," Hollis said.
The fundraiser will help raise money to cover Development costs that include Script Breakdown; Budget and Scheduling; Film Business Plan and other costs at this stage.
The phrase, "But I Had A Praying Grandmother," has become iconic among Gospel music lovers all over the world. Helen Baylor shared her testimony with the audience during the live taping of her album, "The Live Experience," in 1994. The musicians played softly as she wove an unbelievable tale of sexual abuse, drug addiction, promiscuity and more. The glue that held her together through her life of ups and downs was now anchoring the song too. She repeatedly said, "But I had a Praying Grandmother," with her deep alto, resonating voice and it touched everyone somewhere deep in their soul. Seventeen years later, the song, "Helen's Testimony," is still played regularly on Gospel radio stations throughout the country and is now the inspiration for the upcoming biopic feature film.
Helen Baylor is a Four time Stellar Award winner; Winner of Two Dove Awards and Best Gospel Album at the very 1st Soul Train Lady of Soul Awards in 1995.
Cassandra Hollis has directed, produced and written 8 Films, one of which won Best Feature Film and another won 2nd Place for Best Feature, at film festivals. A three-part historical narrative film series that she directed, produced, wrote and starred in was selected for inclusion in the National Park Service Underground Railroad Network to Freedom Program. Hollis has shot films on-location internationally in the Caribbean and Canada.