Award-Winning Gospel Quartet
THE SOUL SEEKERS
"It's All God"
Special Guest PASTOR MARVIN WINANS
The first single from their long-awaited sophomore project SS2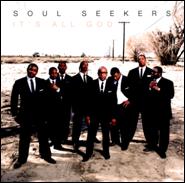 Los Angeles, CA—April 15, 2010—Award-winning quartet The Soul Seekers release the first single "It's All God," featuring the incomparable Pastor Marvin Winans, from their highly anticipated sophomore project, SS2, on My Block Records.
With eight members strong making up this unbelievable young cast of acclaimed musicians and composers, The Soul Seekers are the new paradigm in modern-day Quartet music.  Offering a seamless mix of production over its flawless musicianship and mastery of vocals, The Soul Seekers have really captured the very best of the timeless church expression on SS2.
"It's All God"…arguably one of the best songs on the project, taps into the keeping power of our God, reminding us that it's not of our own selves that we're here, but by God's grace" recapped by Steve Jones for Gospel Flava.
The Soul Seekers (Teddy Campbell, Warryn Campbell, Nisan Stewart, John "Jubu" Smith, Gerald Haddon, Charlie Bereal, Craig Brockman and Eric Seats) bring their signature hand clapping, toe tapping, and spine-tingling sound with a modern gospel quartet twist.  This group consists of highly sought-after recording, session and touring musicians, hit songwriters and producers collectively working with an array of superstar artists from Beyonce' and Missy Elliott to Nelly, 50 Cent, Diddy, Jennifer Hudson, Whitney Houston, Bette Midler and Britney Spears to hit making shows Diddy's "Making His Band" and "American Idol" to name a few.
As frontrunners in gospel music, The Soul Seekers are on fire and ready to minister to the world. Not only is it all good, but most importantly "It's All God".
For more information on The Soul Seekers go to www.facebook.com/thesoulseekersmusic