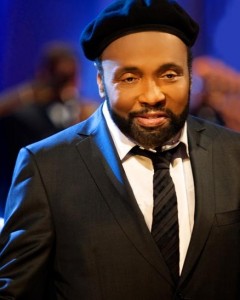 Riverphlo Entertainment recording artist Andraé Crouch's new single, "The Promise," debuts at #1 on the Christian Music Trade Associations (CMTA) Christian Singles/Tracks Chart and #4 on Billboard's Top Single Chart. Crouch will release his 18th album, The Journey, in stores May 17, 2011.
"We are excited and encouraged with our first week's numbers on 'The Promise,'" said Luther, "Mano" Hanes, founder, CEO and President of Riverphlo Entertainment. "As we prepare for the release of the album, we are encouraging church and community choirs to add this classic song to their repertoires and to participate in 'The Promise' Choir Competition."
"The Promise" is written by Crouch and Hanes. The CD package, which is sold exclusively at Walmart, includes the single, an instrumental version, an instrumental version with background vocals, "The Promise" video, a video with a personal message from Crouch and a PDF copy of the sheet music. . The digital single includes the same components as the physical CD, with the exception of the sheet music. The digital version of single is sold at Walmart.com, iTunes, Amazon and all other online retail outlets.
On February 15, Riverphlo Entertainment launched "The Promise" Choir Competition, which runs through June 30, 2011. "The Promise" Choir Competition is open to church and community choirs in the US, Puerto Rico and Canada. All participants must be at least 18 years of age or older.
The winning choir will receive numerous prizes, including a two song recording digital deal with Riverphlo Entertainment. The label will also handle the marketing and promotion for the winning choir's digital release. The songs will be produced by Crouch and Hanes. The winning choir will have the opportunity to appear in Andraé Crouch's upcoming documentary film. Both Crouch and Hanes will come to the winning choir's city/community to conduct a music workshop on songwriting, production and music ministry. The winning choir will have the option of Crouch and Hanes appearing and/or participating at the winning choir's sponsored concert in their city/community. In addition, the winning choir will participate in various local and national media opportunities with Crouch. The winning choir will also receive music and sound equipment from a leading music supplier. For further information on the competition, please visit www.riverphlo.com.
Crouch currently serves as Senior Pastor at the New Christ Memorial Church of God in Christ in San Fernando, California, the church founded by his parents. His twin sister, Sandra Crouch, is the Executive Pastor.
For more information on "The Promise" and Andraé Crouch, please visit:
www.riverphlo.com.