Soul Train Music Award Nominee, Songwriter and Producer,
JJ Hairston, Continues Resting On His Promise With New Beginnings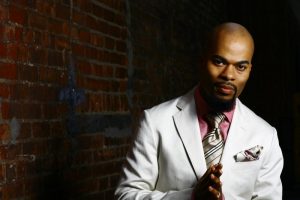 July 12, 2010 – NEW YORK, NY — In a year that has seen great accomplishments, Soul Train Music Award and multiple Stellar Award nominee, JJ Hairston, finds himself at the helm of new beginnings.  Recently, Hairston was tapped to be a first round judge for Verizon Wireless' national choir competition, How Sweet The Sound.  This great opportunity is coupled by the celebration of the newest addition to his family, Baby Jayelle Lalah Hairston, with his wife Trina.
Hairston along with the incomparable ensemble, Youthful Praise, have held steady on the Billboard and Radio charts for over 30 weeks, with their hit single, Resting On His Promise, on Light Records.   Currently #5 at Billboard, JJ is known for his breakthrough hits, "Awesome God" and "Incredible God."  Hairston's infectious, unbridled energy has him hailed as the "gentle-spirited choirmaster" of the hottest contemporary choir in gospel music.
Feeling confident that embracing this season of new beginnings will foster greater things to come, Hairston shares, "Our newest single, Lord You're Mighty, is about to saturate radio and it's just another example of new beginnings for us."
In other news, JJ has been appointed the position of Minister of Music at the First Cathedral Church, in Bloomfield, CT, under the leadership of Archbishop Leroy Bailey.  Having served as the Minister of Music at Cathedral of Praise, under Bishop J.C. White, for many years, Hairston receives this opportunity to expand and share his gifts on another level with open arms.  Admitting that embarking upon new beginnings can have its challenges, Hairston shares, "I'm still in covenant at Cathedral of Praise, that's my home.  I am simply embracing this season of new beginnings and taking my music ministry to the next level."
On the horizon, audiences should be on the lookout, as Jet Magazine has chosen the album, "Resting On His Promise" for their Editor's Pick in the July 12, 2010 issue, currently available worldwide.
Proving to be consistent and truly effective in ministry, Hairston continues to make tremendous strides personally and professionally.  As JJ continues to make his way through this season of new beginnings, he is reassured that these are much-needed transitions in the right direction, while he is yet continuing to rest on the promise of God.
For more information on the JJ Hairston log on to: www.youthfulpraise.org and www.facebook.com/Youthful.Praise
ABOUT JJ HAIRSTON: JJ Hairston, a native of Brooklyn, NY, is the director of Youthful Praise and a member of the Cathedral of Praise in Bridgeport CT.  Hairston's ability to craft tunes with timeless melodies and timely lyrics is aptly demonstrated by the title track "Resting in His Promise" on his most recent release with Youthful Praise.  Hairston may exceed the expectations of even the most committed fans as he takes them on a musical journey that will stir their hearts to worship and lift their arms in praise. The novice gospel fan will discover the joy of being swept up into a well-woven tapestry of praise and worship.
UPCOMING SCHEDULE:
July 16th – Radio One Event – Indianapolis, IN
July 17th – Radio One Event – Philadelphia, PA
July 18th – Kings Apostle Church World Ministries – Baltimore, MD
For media inquiries contact:
Quwania Jai | TSF Marketing & Media
347.878.8736 | [email protected] | www.thesonshinefaktory.com
For management inquires contact:
Kelvin Leach | Lox Entertainment973.351.1569
[email protected] | www.LoxEntertainment.com