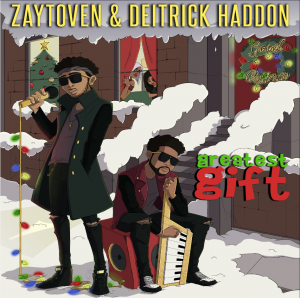 Today, Zaytoven & Deitrick Haddon release their collaborative holiday EP, Greatest Gift, via Familiar Territory/Motown.
GRAMMY® Award-winning multi-platinum super producer, songwriter, and multi-instrumentalist Zaytoven and iconic gospel singer Haddon unwrap seven smooth original Christmas anthems. Powered by piano-driven production, warm R&B and upbeat hip-hop energy punctuate delicate delivery and stunning vocal runs. "Holiday Bae-cation" warms up the season just as much as a crackling fire does, while "Make Love On Christmas" brings the seduction with a big bow.
Drawing critical applause, The New York Times named it among "Holiday Music for the Joyful, the Lonely and the Skeptical," going on to write "The gospel singer Deitrick Haddon has over the last decade been one of the genre's limit pushers, tugging at its musical and ideological boundaries. In the producer Zaytoven, one of the architects of Atlanta trap music – and also a church-trained musician – he has found a worthy collaborator."
2018 remains a landmark year for Zaytoven. He dropped his critically acclaimed full-length debut, Trap Holizay. Among a track listing of bangers, "Mo Reala" [feat. Future] ignited 6 million-plus Spotify streams.
Releasing a bevy of projects, he joined forces with Lecrae for the powerful, passionate, and poetic Let The Trap Say Amen in addition to re-teaming with Future for one of the year's most-anticipated sequels, Beast Mode 2. Meanwhile, he linked up with Usher for A. Once again extending his influence, Zaytoven also starred in the independent film Birds Of A Feather 2, which follows his journey. The film co-starred Kash Doll, Trouble, Al Nuke, OJ Da Juiceman, Josiah McCormick, and other surprise cast members.
Everything set the stage for an even bigger, better, and bolder 2019.
TRACKLISTING:
"Christmas Prayer"
 "Christmas Wit U"
"Make Love On Christmas"
"Silent Night"
"Greatest Gift"
"Holiday Bae-Cation"
"Good Christmas"
A true trendsetter, Zaytoven proved integral to the sonic architecture of the Atlanta scene with which he stands synonymous. His influence can easily be felt in nearly every corner of hip-hop and R&B. 2011 saw him win his first GRAMMY® for co-producing and writing "Papers" on Usher's Raymond v. Raymond. Among countless multiplatinum productions for the likes of Gucci Mane and Migos, he teamed up with Future for seminal 2015 collaborative mixtape, Beast Mode. Everybody from Drake and Nicki Minaj to Rick Ross and Lil Yachty has sought him out.
Unsurprisingly, his musical acumen encompasses more than just beat-making. Born in Germany, raised in San Francisco, and based in Atlanta, Zaytoven's nickname pays homage to his piano virtuosity. VIBE has hailed him as "Atlanta's true trap music pioneer" while Complex praised his "singular blend of layered, oscillating synth melodies, ominous organ chords, and booming low-end bass." Founding Familiar Territory Records, he's becoming a cultural tastemaker and entrepreneur in 2017 as well.