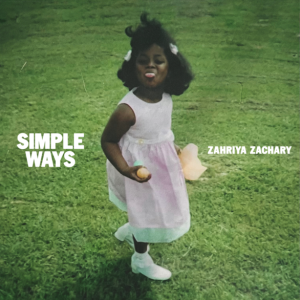 If we are honest, loving Jesus for the first time seemed so simple. In a world that can distract us from His love, we've complicated it.  Bethel Music artist Zahriya Zachary wants to remind us of the repose and pureness of God's enduring love. Her debut solo single, "Simple Ways," will take you back to the simplicity of the Gospel and the love Jesus has for us.
"He longs for us to keep that childlike faith and just love Him," says Zahriya.
"Simple Ways" is smooth vocally and so satisfying musically.  The single features vocal guest Bethany Wohrle and Jeff "Lael" Schneeweis in the producer seat.
Listen To "Simple Ways"
"Simple Ways" surrounds listeners with comfort and radiates an ambiance of pure and satisfying love.  The single is available now on all digital music platforms and is making its way to Gospel and Christian radio.  Zahriya also has a companion lyric video for "Simple Ways" on her YouTube channel.
Born and raised in Spring, Texas, Zahriya is the newest member of the Bethel Music Collective. Zahriya is featured on Bethel Music's most recent album, HOMECOMING (2021), singing "Back To Life" and "Hymn Of Heaven."  She currently leads worship at The Woodlands Methodist Church in The Woodlands, TX.  She loves to worship in different cities because each city carries a different culture and a different face of God.  Her heart is that people will forget about her and be brought straight to Jesus whenever she leads.
Zahriya believes that worship is the place where we belong; it's the most natural and innate thing the Lord has called us to do.  Worship doesn't have to look like music; it can look like so many things. Let's not make it complicated; let's just celebrate the Lord!