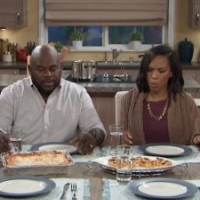 In this week's all new episode of Bounce TV's original sitcom MANN & WIFE, premiering this Tuesday, April 28 at 9 p.m. ET/8 p.m. CT, sparks fly when Daniel's jet-setting ex-wife Michelle pays a surprise visit played by guest star Vivica A. Fox.
Daniel's first wife Michelle unexpectedly shows up to spend time with their boys and Lorraine stirs the pot with Toni, preparing her for the worst with unflattering descriptions of her former daughter-in-law. Toni is ready to meet a monster, but instead finds Daniel's ex to be a beautiful, accomplished and generous woman….who causes her to feel a bit of self-doubt about how well she's holding down the fort at home.
Meanwhile, Daniel's cop partner Michael is dating a massage therapist who seems a bit shady to Daniel despite her efforts to win him over. Daniel sets out to prove she's bad news, but can't find any evidence to support his suspicions. He's forced to admit that he might be wrong — at least until Mike discovers that she may be after more than his heart.
MANN & WIFE's debut episode became the network's most-watched original to date, reaching nearly 800,000 viewers on premiere night.  Joining Empire in the rare company of television series that increased ratings from week one to week two, the second episode of MANN & WIFE increased viewership over its series premiere episode to become Bounce TV's most-watched original to date, beating its' own record.
Tune in for big laughs on MANN & WIFE this Tuesday, April 28 at 9 p.m. ET/8 p.m. CT.