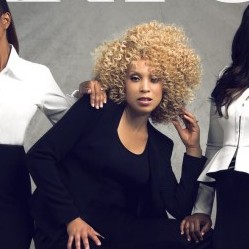 Grammy, Dove and Stellar nominated female group Virtue's latest hit "You Are" is gaining traction at gospel radio across the country by jumping +9 spots cracking Top 30 and landing at#25 with a +80 spin trend on the Nielsen BDS Gospel Airplay chart this week.
Virtue will perform "You Are" live this Friday, February 20 @ 8:00 PM EST / 7:00 PM CST on "Rejoice in the Word" program on The Word Network cable channel hosted by Bishop George Bloomer.
The appearance comes on the heels of the group's release of TESTIMONY: RELOADED (Mixed Bag/eOne) – a re-release of their 2006 Grammy-nominated album Testimony. The re-release which is available in stores and online now features the group's current single "You Are" and a new Fred Jerkins produced track "You Deserve."
"We are excited about all of our music, but the inspiration behind our new album [Testimony: Reloaded] comes from us being away for so long; and all of the things that happened in our lives," states Virtue in an exclusive interview with Sister 2 Sister Magazine.
"Life happened in a huge way for us. In the time we were away we all became mothers, one of us experienced divorce, and we experienced three deaths. We lost a sister, our father, and our grandmother. Our true inspiration came from real life experiences that have touched us and changed us in ways that we could never have expressed before. So, we grew up and you can hear it lyrically and vocally."
Virtue continues to promote their rising single with upcoming appearances at the Selma 50 (An All Star Tribute to Selma) joining Fantasia, Kirk Franklin, Mary J. Blige, Ruben Studdard, The Clark Sisters and more on March 8; the Annual Gospel Superfest in Chicago (Mar 21); and the 30th Annual Stellar Gospel Music Awards in Las Vegas (Mar 27-28).