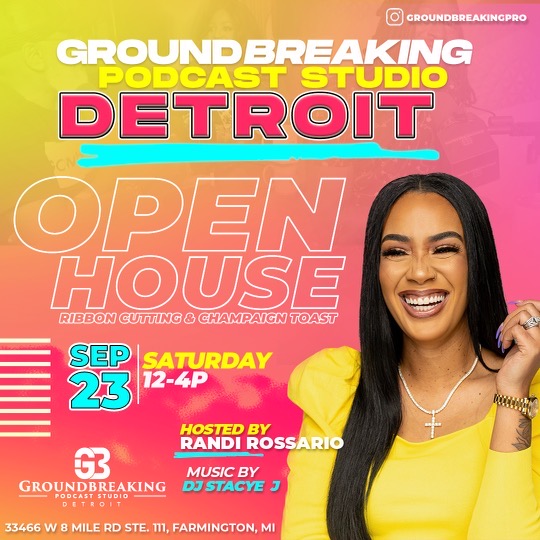 Viral relationship coach, radio host, and author Bishop Greg Davis Sr. has just launched a brand new podcast recording and content creation studio aimed at helping metro-Detroiters expand in the world of digital content creation! Ground Breaking Podcast Studio (GBPS) will be opening its doors to the public for the first time on Saturday September 23, 2023 with a free festive ribbon cutting celebration from 12pm to 4pm EST at Groundbreaking Podcast Studio 33466 W. 8 Mile Farmington, MI 48226.
The open house begins at 12pm EST with a ribbon cutting ceremony and toast hosted by comedian Randi Rossario. Guests can drop in and experience the podcast studio firsthand and see all of the exciting new technology Davis is bring to Detroit. The studio is internally equipped allowing anyone to be able to enter as an amateur and leave as a YouTube STAR with high-tech production equipment to help podcasters and content creators every step of the way.
Along with podcast equipment, GBPS has seven different contemporary-themed studios providing a professional yet fun podcast interview environment. The set designs are perfect for selfies, digital reels, photo shoots, and more! There is also an internal editing team available to assist creators in refining the final product to be ready for distribution.
The studio is owned by TV Radio Host/Relationship Coach Bishop Greg Davis Sr. who is no stranger to the social media world with a passion to provide space for influencers. "This studio space is a hub and home for creatives to produce content that will be distributed around the globe"!
For more information visit www.gbpodcastdetroit.com