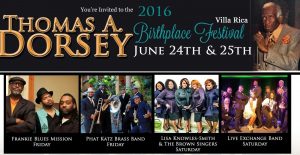 Villa Rica, Georgia Mayor Shirley Marchman extends greetings to music lovers from around the world who will come to town June 24th and 25th for the 2016 Thomas A Dorsey Birthplace Festival.  The 2-day music festival honors the Father of Gospel Music, Professor Thomas A. Dorsey, who was born in Villa Rica in 1899.  Dorsey, the son of a Baptist preacher was a skilled and celebrated Blues pianist and songwriter who spent his early years as Georgia Tom touring with Ma Rainey and her Wild Cats Jazz Band.  Compelled to a life of service to God, Dorsey would go on to write over 400 Gospel songs including Highway to Heaven, I'll Tell It Wherever I Go and Precious Lord, Take My Hand, which was immortalized by the Queen of Gospel Music, Mahalia Jackson and a favorite of civil rights leader Reverend Dr. Martin Luther King, Jr.
Now in its 22nd year, the Dorsey Birthplace Festival features elements of Dorsey's early years with Jazz and Blues music emanating from the Thomas A Dorsey stage at The Mill along with a Gospel concert at the historic Mount Prospect Baptist Church where Professor Dorsey and his family were members.  "I've been around Gospel music all of my life", says Mayor Marchman.  I grew up in Villa Rica, attending the church that Dr. Dorsey and his family attended, the Mount Prospect Baptist Church and Gospel Music has played a tremendous part in my life, as it has touched many people across the country and the world.  We are proud of the efforts of Professor Dorsey and grateful that we can do our part to make sure that his legacy lives on so that others may enjoy the fruit of his labor."
"As part of the many efforts to preserve and promote the legacy of my grandfather, Professor Thomas A. Dorsey, I'm particularly excited about this year's Thomas A. Dorsey Birthplace Festival in Villa Rica", commented Attorney Thomas A. Dorsey III.  Attorney Dorsey is founder of the Thomas Dorsey Project and co-author of Living the Life I Sing, Gospel Music from the Dorsey era to the Millennium, published by Cognella Academic Publishing.  Dorsey and other family members will be on hand for this year's festivities.
Highlights of the festival will include performances by Eric Ayers and the Thomas Dorsey Birthplace Gospel Choir, Gospel music sensation and Stellar Award nominees Lisa Knowles and the Brown Singers, Minister Eddie Robinson and others.