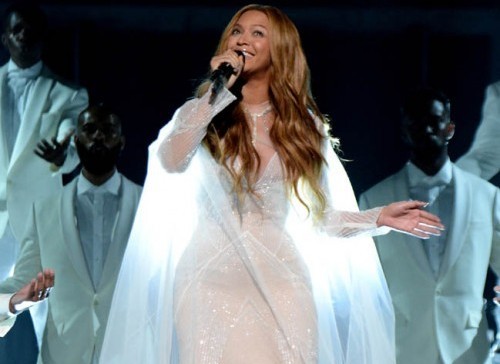 At the 2015 Grammy Awards, many were surprised by Beyonce's performance of "Take My Hand, Precious Lord" at the end of the show. With the award-winning, superstar's over-the-top, highly sexualized persona, some believe it would have been appropriate for an actual Gospel singer to deliver the ballad.
There was even controversy stemming from Ledisi, who performs the song for the motion picture "Selma" soundtrack, not taking the stage to sing her rendition.
However, the message behind the song and performance is much deeper than who performs it or if that person is "Holy" enough. Below is a behind-the-scenes video Beyonce posted to her YouTube channel, explaining her decision to perform the song and what it means to her. Click play to see all that she has to say!
WHAT DID YOU THINK OF BEYONCE'S "TAKE MY HAND, PRECIOUS LORD" GRAMMY PERFORMANCE?

DID YOU LIKE IT, OR WAS THE OIL MISSING?