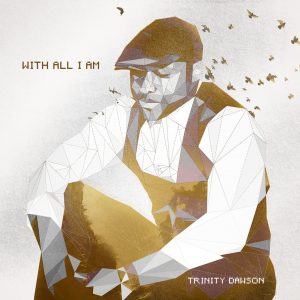 Urban Inspirational recording artist Trinity Dawson releases his much-anticipated debut album WITH ALL I AM (Dawson House Productions/New Day Distributors). In his first full-length CD Dawson will not only inspire his listeners with a powerful message, he also does so by creating an innovative sound that draws upon different musical styles that audiences will enjoy. WITH ALL I AM is available now in stores and all digital outlets including iTunes, GooglePlay, and AmazonMusic.
Trinity Dawson has proven to be one of Gospel's most promising new artists, and has been gaining momentum with the successful release of his singles. He collaborated with Grammy Award winning songwriter, Aaron Sledge (Mario, Michelle Williams, James Fortune, Mary Mary) on his single "Not That Easy," which is currently #34 on Billboard's BDS Gospel Airplay Audience chart. On the remix Dawson teamed up with his former University of Toledo teammate/roommate and current leading wide receiver for the NFL's Cleveland Browns, Andrew Hawkins.
WITH ALL I AM is filled with other moving original songs that are sure to become favorites for listeners. As a member of his church's Worship and Arts Ministry, he has utilized that experience to craft an album with songs Praise and Worship ministries will want to add to their repertoire. Inspired by his commitment to surrender to God, Dawson has created a deeply personal album that can be seen in such songs as "Just Be With Me" and "You're All I Need," which acknowledge his utter dependence on God in pursuing his purpose. In more up-tempo songs like "I Win" and "I'll Wait" listeners will enjoy the urban and pop influences of Dawson's work while being inspired by the message.
Trinity Dawson's road to becoming a recording artist has not been a direct path. After achieving national notoriety as a college running back for the University of Toledo, Dawson transitioned to business sector, becoming the youngest Director of a publically-traded, Fortune 500 company. Now as a new artist he hopes his music will encourage people as they continue their pursuit toward purpose. Ultimately, his prayer is that people will be able to say, like he does in his title track, "With all that I am, with all that I have, with all that I do, may it please You."
Trinity has upcoming performances and appearances at radio announcer Lee Michaels' East Coast Gospel Music Summit in Baltimore and Howard University vs. Savannah State University's football game performing the national anthem Washington, D.C., his hometown of Houston, TX, Phoenix, AZ, and will appear on CBN News in the coming weeks.