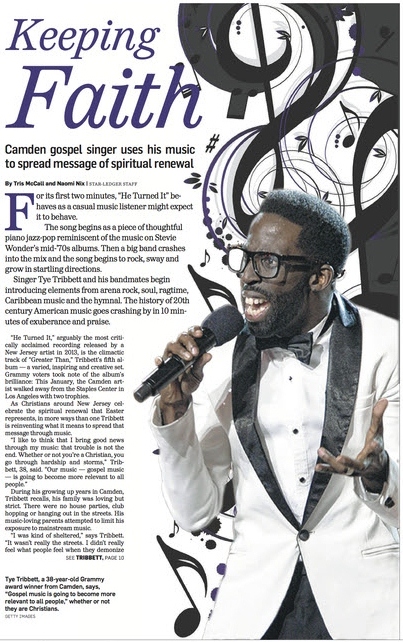 Motown Gospel's Multiple Grammy® Award winner and Soul Train Music Award winning recording artist Tye Tribbett covers front page of New Jersey's largest circulated newspaper, The Star Ledger, Sunday April 20th edition. The newspaper is available today at newsstands in the state of New Jersey or visit online at www.nj.com/starledger
The cover issue touches on several topics including, Tribbett's recording career, being a family man, his marriage, spiritual life, growing up in Camden, New Jersey, his most recent life change and Easter.
The tell-all in-depth cover story comes as the latest of headline-grabbing news forTribbett who is currently featured in a six – page spread in Sister 2 Sister Magazine'sApril 2014 issue in addition to high profile television performances and appearances this month on UNCF's 'An Evening of Stars', Celebration of Gospel, 106 & Park and Lift Every Voice – all shown on BET Networks.
Tribbett released his fifth album, GREATER THAN, in August 2013 to critical and consumer acclaim. GREATER THAN debuted at #1 on the Billboard Top Gospel Albums Chart (4 consecutive weeks), #4 on the Billboard Digital Albums Chart and #9 on the Billboard 200 – Tribbett's highest debut ever.
Lauded by music critics across the country, GREATER THAN received stellar reviews from two of the nation's top newspapers. The New York Times declared that,"Tribbett is an exceptional gospel artist" (http://nyti.ms/19g8I0W). The Los Angeles Times awarded the CD three out of four stars, stating, "Combined with Tribbett's breathless, exclamatory singing, this frenzied variety demonstrates the breadth of his devotion" (http://lat.ms/16g9tIN).
The success of GREATER THAN garnered Tribbett a Soul Train Music Award win for Best Gospel/Inspirational Song of the Year ("If He Did It Before…Same God") and two 2014 Grammy® Awards for Best Gospel Song ("If He Did It Before… Same God") and Best Gospel Album ('Greater Than'). To date Tribbett has sold upwards of a million albums in his professional recording career.
Tribbett continues to promote his project across the country and is prepping for his music mentorship program in Columbia, SC on May 15th -17th.