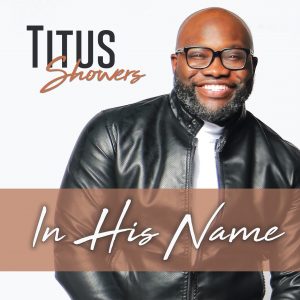 A former member and lead singer of two-time Stellar Award nominated chart-topping sibling group, The Showers, celebrated new solo artist, and singer-songwriter, Titus Showers debut solo radio single, "In His Name" is set to digitally release on all streaming and purchasing platforms and video premiere simotaneously on Friday, April 5, 2019 via A&P Records/United Alliance Music Group/Sony/The Orchard.
Newly launched to Gospel radio this month, "In His Name" is co-written by Titus Showers along with and produced by GRAMMY®-nominated musician Lucius B. Hoskins, Titus' mesmerizing voice and astounding performance coupled with the songs gripping lyrics declares God's power of healing and deliverance while professing his plan and purpose for our lives. "In His Name" is poised to reach people from all walks of life including the un-churched and compelling those who are not deemed "believers" to want to know more about the Christian faith.
Up from the ashes, Titus and his family survived a major loss two years ago when their family home burned to the ground on March 2, 2017. Recalling the day, "It was a test of our faith because that was my mom's dream home. And she always said that the Lord was going to bless her with a home," states Titus. Somehow the fire gave birth to new music and life as Titus began to embark on his solo journey.
About Titus Showers:
It all began in his hometown of Hammond, Louisiana – a picture-perfect town with a population of about 20,000 people where he functioned, as a care coordinator specializing in healthcare coordination and case management.Titus Showers hit the national gospel music scene along with his 7 siblings in 2015. The family collective recorded two albums, The Showers Family Group(2015) and their chart-topping sophomore album, The Journey (2017). The group produced three Top 30 radio singles: "Better" (#13), "Immediately" (#24), and "Praise Your Way Through" (#29), and earned two Stellar Gospel Music Award nominations in 2016 and 2018. The Journey placed in the Top 50 on the Billboard 2018 Year-End Gospel – Top Gospel Albums chart. Titus has performed and/or appeared on several high-profile stages and platforms including the ESSENCE Festival, BET's Bobby Jones Gospel Show, The Stellar Gospel Music Pre-Show and Radio Awards, GMA Dove Awards Pre-Telecast, CBN News, and The 700 Club to name a few