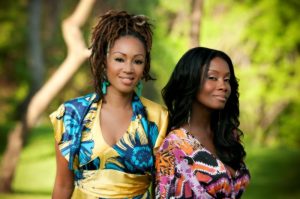 Coming May 31, Trin-i-tee 5:7 will be gracing your ears with the beautiful sounds off their 7th album, "Angel and Chanelle."
The forthcoming project's new single, "Over and Over" entered at #10 on Billboard's Hit Gospel Song Chart with at least 10 million in the listening audiences everywhere.
"We are excited about the launch of Trin-i-tee 5:7?s new project," said Mathew Knowles, founder, President and CEO of Music World Entertainment. "The CD showcases the vision and talent of these two extraordinary women as both writers and performers.  It is a bold statement about where they are at this point in music, their faith and their lives. We have two terrific videos for 'Over and Over' and 'Heaven Hear My Heart.' Both singles are performing extremely well at gospel and urban adult contemporary radio. And the ladies have a 25 city promo tour scheduled, along with numerous concert opportunities to consider."
The duo is also preparing for its upcoming promotional tour and will be making several national appearances including the "Mo'Nique" Show, TBN and several other outlets.