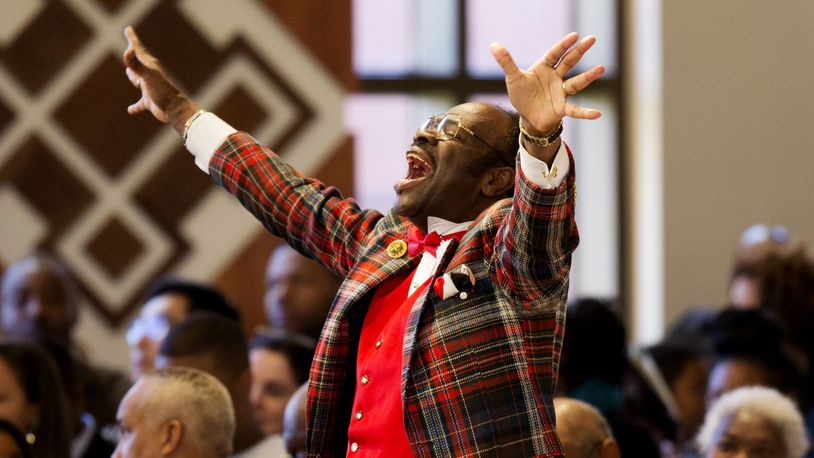 Tributes are pouring in for Elder Cal Murrell, who was a local legend and fixture at funerals and other events for celebrities, community leaders and everyday Atlantans.
Several people said they couldn't remember a Martin Luther King Day without the presence of the man affectionately known as "The Happy Preacher."
A positive identification could not be confirmed by the Fulton County Medical Examiner's office Sunday, but several people who knew him well said he was found dead in his Atlanta apartment. The time of death could not be determined by The Atlanta Journal-Constitution.
The Rev. Timothy McDonald III, senior pastor of First Iconium Baptist Church on Moreland Avenue, said he last spoke with Murrell, whom he had known about four decades, a few weeks ago. Murrell had reached out to him to ask whether McDonald would handle his services.
"He knew something," said McDonald, who said he doesn't know the cause of death.
He said Murrell was a fixture at several churches, including Ebenezer Baptist Church and First Iconium.
"He was just one of a kind," McDonald said. "There will never be another Happy Preacher. He was well loved, especially by preachers. I loved his authentic praise. It didn't matter what church he was at, what venue or whether it was a funeral or worship service. … The Happy Preacher was going to be praising. He brought his praise with him."
McDonald said he was amazed at how Murrell knew about everybody's funeral "under the heavens."
He said Murrell, as much as a local icon as he was, wanted his own service to be "totally the opposite of what people might think. He didn't want it to last over an hour. He wanted to be cremated. He didn't want a whole lot of folks talking over him. He loved a big funeral but didn't want one."
Rest In Peace Elder Cal Murrell "The Happy Preacher". You were an atlanta legend. We know you are shouting in glory! pic.twitter.com/hn5x1FnpzM

— Jared Sawyer Jr. (@JaredSawyerJr) January 15, 2022
Arrangements are still pending.
Bernice King, CEO of the King Center and daughter of the Rev. Martin Luther King Jr. and Coretta Scott King, posted about Murrell on Be A King's Facebook account.
"My friend … I was so saddened today to learn that "The Happy Preacher" (Elder Cal Murrell) died. We were truly blessed to have him as a part of the Atlanta community and as a regular, joyful presence at so many seminal events, including The King Center's annual MLK Day Commemorative Service. He cared about us and gave so much of himself on our behalf. Rest In Peace, Happy Preacher. We'll miss you Monday."
Others also took to social media to remember Murrell.
One Twitter user said Murrell was Atlanta's "first Black Christian socialite."
Others posted photos or videos of him with his trademark tambourine or praise dancing.
SOURCE: AJC.com