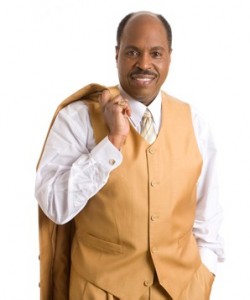 For most people, Mother's Day conjures up warm thoughts and good memories.  For traditional gospel recording artist Conrad Miller, it means that and so much more.  Although his mother has gone home to be with the Lord, it was her inspiration that allowed the Philadelphia resident to pen one of his most beloved songs.  "Momma Prayed For Me", from his debut project,
My Journey
, produced by GRAMMY, Stellar and Dove Award winner Steven Ford, speaks of a mother's love and the prayers that only a mother can pray.
Named by TheExaminer.com as the #2 song celebrating that special day for mom, My Journey's first single, "Momma Prayed For Me", is a testimonial for the singer. "A few years ago, on the day before Mother's Day, I was at my church," recounts Miller. "One of the mothers of the church who was with me, asked me, 'Bro. Miller, did you write a song for Mother's Day?' I told her 'no' since I hadn't thought of writing something for the occasion", said the singer, but the thought stirred in him and a few hours later, he had written "Momma Prayed For Me". The listener will find it's a rousing, beat-driven song about a praying mother. Pulling influences from traditional gospel, quartet and soul, Conrad delivers a stirring performance on the single.
The press loves Miller's music. Gospelflava.com says, "From start to finish, the album remains true to the classic R&B/gospel feel of years gone by that is rarely heard in today's music." The Black Gospel Blog says, "The lyrics may be grounded in personal faith, but the songs on My Journey sound as if they were pulled off old vinyl records".  Conrad Miller's hometown newspaper, The Intelligencer, focused on him in their article "Vocational Passion" where they said, "With Miller's warm, smooth vocals, and the disc's melodic uncluttered arrangements, the songs speak to God as both salvation and consolation." He's also been covered in publications such as the Belle Report, Gospelcity.com, TCP Magazine, I AM   Magazine, and WOW Magazine.
Miller has been involved in music since starting piano lessons at the age of five.  He started singing seriously at the age of 12 and ultimately became a member of the R&B group, The Soulful Seven, signed to MGM Records.  As an R&B songwriter, one of his songs, "Carla, My Love", a moderate hit, was recorded by the nationally-known group, The SofTones.  He received his musical education at Fort Hays Kansas State University studying voice and did his graduate work at the University of Michigan in voice and opera.  He's sung at Carnegie Hall, the Kennedy Center and in Europe.