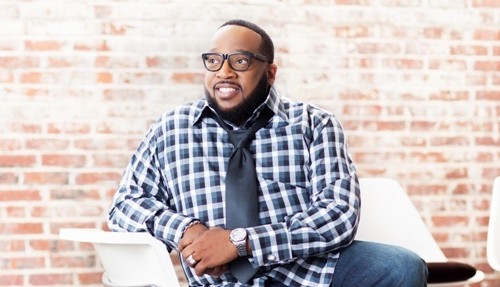 On Tuesday, June 2, 2015, GRAMMY® nominated, 22-time Stellar Award-winning recording artist, author and Pastor Marvin Sapp will release his highly anticipated new project, YOU SHALL LIVE on RCA Inspiration.  YOU SHALL LIVE marks Sapp's 10th solo album and features 11 heartfelt and uplifting gospel tracks.  The album's first single "Yes You Can" features production from Aaron Lindsey and is quickly making its way to the top of the gospel charts.
YOU SHALL LIVE takes listeners on a rewarding musical journey punctuated by life-sustaining hymns of praise and promise. Impassioned, emboldened but most of all unbroken, Marvin Sapp delivers an exceedingly intimate disc in a nod to his deliverance.
"I was in a very transparent space when I recorded this album," recounts Marvin Sapp. "I wanted to deliver something that was going to encourage those who are in the valleys of their lives, to let them know I get it. I know what it feels like to have your heart ripped out of your chest. But, I also needed them to know that no matter the heartbreak, God's got us and even the most painful experience can be overcome."
In preparation for the release of YOU SHALL LIVE, Marvin Sapp will be making stops in Atlanta, Chicago and Charlotte.  Catch Marvin Sapp in concert on Friday, May 29th in Atlanta at the Cobb Energy Performing Arts Center, in Chicago on Sunday, May 31st at New Life Covenant SE Church and The Chicago Gospel Festival at Millennium Park and in Charlotte, North Carolina at The Concord Mills Mall on Monday, June 1st.
YOU SHALL LIVE Track Listing:
Greater
Honor and Glory
Count on You
Live
Beloved
Yes You Can
Old Rugged Cross
Thank You For The Cross
Holy Spirit Overflow
Your Love Wins
Praise Your Way Through
Pre-order YOU SHALL LIVE today and instantly receive two tracks from Marvin Sapp's long-awaited project.