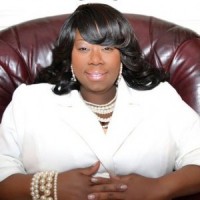 The Gospel Music Industry is buzzing as Tonya Lewis Taylor makes her debut as a TOP 20 artist on the Billboard Gospel Charts with her hit single "Thank You," an upbeat, head bobbin, feel good contemporary track with a retro feel reminiscence of the Walter Hawkins classic of the same name.  "Thank You" is the lead single off of her debut album "Delayed But Not Denied"(available on ITUNES) which features 10 tracks of TLT's soulful praise and worship style of music all of which she wrote and co-produced.  It features a mixture of tear jerking ballads and foot stomping, jump outta your seat songs.  The album offers something for everyone.
Delayed But Not Denied was recorded live in NYC's famed MSR Studio, and according to Tonya, this album is the story of her life, "I wanted to record this album 20 years ago, but family, work, fear, doubt and my insecurities delayed my musical journey." The overarching testimony of the album speaks to a dream deferred but not forgotten, Tonya is an example that it's never too late to rise up to touch one's destiny.
Since the release of her debut album Tonya has been afforded opportunities that emerging artist rarely receive.  She was the opening act on the 32-city 2014 Festival of Praise Tour with Fred Hammond and Donnie McClurklin.   She has been featured on TBN with Clifton Davis, and in concert on TBN's 15th Street Live.   Tonya has appeared on Bobby Jones Gospel, ABC's Here & Now, MSNBC's Melissa Perry Show just to name a few. Tonya Lewis Taylor is building a worldwide fan base and is inspiring people who are connected to the message in her music and ministry. Tonya's musical ministry has seen incredible momentum, blazing radio airwaves across the country and steadily rising up the Billboard Charts to # 16.