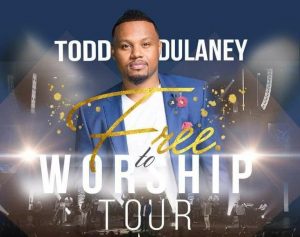 From the recent release of Todd Dulaney's newest single "Your Great Name", comes the exhilarating Free To Worship Tour slated to begin the end of October 2017.
The Free To Worship Tour will feature dates within a variety of cities ranging from Huntsville, Alabama to Kansas City, MO, and Little Rock, Arkansas, just to name a few. The Free to Worship Tour expects attendees to experience a night full of worship that is free of "gimmicks and games".
His newest uplifting single, "Your Great Name", which has already hit #1 on the charts, stands as the lead single for Dulaney's new, upcoming album entitled "The 2nd Encounter" which will be forthcoming in early 2018.
Dulaney, a former professional baseball player for the New York Mets, released his sophomore album, "A Worshipper's Heart" in the spring of 2016 and it immediately debuted at #1 on Billboard, alongside the debut single "The Anthem", which also shot to #1 on Billboard. Additionally, The Anthem went #1 at Gospel Radio for over a month and currently holds 114 weeks on the Digital Gospel Songs Chart.
A Worshipper's Heart was Todd's first live recording and earned him a slew of award nominations from The 2017 Stellar Awards to The 2016 and 2017 Dove Awards and The 2017 Grammy Awards. On top of these nominations, A Worshipper's Heart currently holds 71 weeks on the Current Gospel Albums Chart and 71 weeks on the Digital Gospel Song Charts with follow up single, "Victory Belongs To Jesus". A Worshipper's Heart also has tallied over 26 million digital streams.
Dulaney recently signed an exclusive management agreement with Maximum Artist Management, a Nashville-based company led by the firm's founder and president, Mitchell Solarek. Maximum Artist Management guides the careers of chart-topping artists including Natalie Grant, Bernie Herms, Danny Gokey, Donald Lawrence, and Koryn Hawthorne, who will be joining Dulaney on the Free To Worship Tour.
Dulaney has one main agenda with this tour and that's for all attendees to spend time in the presence of God. With his newly released single and the highly anticipated upcoming album, fans are sure to receive the agenda that Dulaney has set.
To learn more about the Free To Worship Tour and how to purchase tickets, visit www.todddulaneyland.com
About Todd Dulaney
Todd Dulaney is a Grammy Award-nominated worship artist from Chicago, IL. At the age of 18, Dulaney was drafted by the New York Mets, but to the surprise of many, left that world behind to pursue a career as a Gospel recording artist. Since accepting that call, Dulaney has released two albums, (Pulling Me Through, A Worshipper's Heart), which have both garnered him several award nominations ranging from Stellar Awards to Dove Awards, and a 2017 Grammy Award for Album of The Year. Dulaney's sophomore album and its debut single, "The Anthem", both went to #1 on the Billboard charts, resulting in Dulaney being named Billboard's New Gospel Artist of the Year in 2016.
Todd has since shared the stage with the likes of Smokie Norful, Vanessa Bell Armstrong, Michelle Williams, Nicole and David Binion, Tye Tribett and Donnie McClurkin, Jonathan Nelson, Travis Greene, and Nicole C. Mullen, just to name a few. His third album and second live recording, titled "The 2nd Encounter", is slated to be released through eOne Nashville in early 2018.  Todd and his wife Kenyetta Dulaney, are the proud parents of four. While Todd is beyond grateful for his current success, he continues to stay at the feet of God, and put the attention on Jesus, for life has continued to show them that in all situations, the Victory Belongs to Jesus.  Learn more about Todd at www.ToddDulaneyLand.com