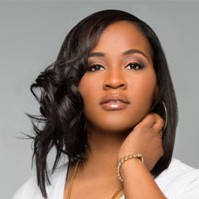 Hot off the heels on winning her first Stellar Award, Tiffany Joy McGhee (TiffJoy), announces new deal with VaShawn Mitchell's new company, Walkway Music Group, a division of VMan Entertainment.
TiffJoy penned and is featured on the title track to Ricky Dillard's successful 2014 album "Amazing," for which she recently won the Stellar Award for "Song of the Year." "Amazing" had an impressive run at radio last year, holding the number one spot on the Billboard singles chart for 30 consecutive weeks. An epic worship ballad, McGhee proves herself as an emerging songwriter, singer and worshipper.
In partnership with Tyscot Records, award-winner, producer and top selling artist VaShawn Mitchell will release McGhee's debut single "The Promise" under Walkway Music Group/VMan Entertainment. "The Promise" will be available this Summer and McGhee's full album is slated for next year.
"Tyscot has enjoyed years of working with VaShawn in various capacities, and now we are elated to be the label partner for his Walkway Entertainment," said Bryant Scott, President and COO Tyscot Records. "We are excited about our first artist through this joint venture, TiffJoy. Her voice and song have saturated our spirits for the past year, culminating with a Stellar Awards win for Song Of The Year. It is now time to present TiffJoy on her own stellar project."
Mitchell continues to expand his brand in the music industry away from the microphone. As head of the newly established, Walkway Music Group, Mitchell hopes to blaze new trails in Gospel music.
"I am excited to partner with Tyscot Records after years of being in relationship. With this endeavor I'll be able present fresh new artists through Walkway." Using this platform as a way to create new opportunities and produce life-changing music from rising new talent, Mitchell will tap into all avenues of praise and worship, gospel and Christian music genres.