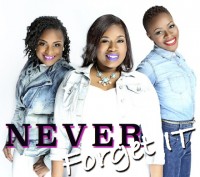 Zebrina Anderson, NiKeisha Whittier, and Sarah Benibo are the three anointed voices of the St. Louis based gospel trio God's Chosen (GC3) who entered gospel music in 2007 with their highly acclaimed "Love (Medley)" from their debut release LOVE EVER AFTER.  These ladies have been uniting their voices since high school and nurturing their musical purpose in ministry for over ten years.  Essence Magazine took notice of GC3 and named them one of the 2014 Gospel's Top 15 Artists To Watch.
With the release of their second indie project 1 & 6 in 2013, GC3 is setting a high precedence for female vocal groups and setting a standard of excellence for artistry in the genre of gospel music.
An anticipated follow-up single to their acoustic guitar driven praise and worship anthem "Whatever It Takes" showcases the trio's versatility and increasing significance in gospel music.  The newest single from their 1 & 6 project impacting gospel radio now is "Never Forget It".  A flip from the acoustic, "Never Forget It" is a high energy audio experience with GC3's earth shaking vocals back by a sonically vibrant track.  GC3 now more than ever is ready to impact the masses with their diverse musical delivery and heart to reach people everywhere.
Listen To "Never Forget It"