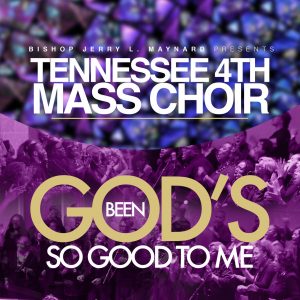 The Tennessee 4th Mass Choir's current radio single "God's Been So Good To Me" (Jelama Music Group) is available now for streaming and purchasing. "God's Been So Good To Me" is the lead single from the choir's forthcoming sophomore release Excitement of Praise.
"God's Been So Good To Me" is a tune channeling the Gospel grooves of yesteryear with today's modern instrumentation. The memorable refrain alongside the band's signature bounce provides the listener with an opportunity to reminisce upon the goodness of The Lord. Blaring horns and organ riffs underpin the question prompted by the choir which simply states, "Do you have the time to talk about Jesus?" This song is for anyone who has ever experienced the excitement that comes from God consistently delivering on His promises – which is everyone!
Slated to release in the Fall of 2017, the forthcoming album features Derrick 'The Maestro' Jackson on keys, powerhouse, soloists, Carla, Tolbert, Taylor and Kathy Taylor, and laces in the smooth vocals of Shae Norman. Bridging the contemporary praise and worship rhythms of today's music with songs such as The Report and Great God with the traditional anointing of old-time church found in the tune Thank You Jesus, it serves as a solid reminder of God's grace, goodness, and love for all those who take a listen.