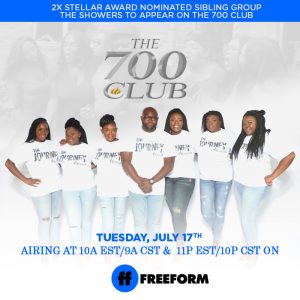 Off the heels of making an major appearance at ESSENCE Fest in New Orleans last week, Two-Time Stellar Award nominated sibling group The Showers will be featured on The 700 Club this Tuesday, July 17th at 10a EST/9a CST and a re-run at 11pm EST/10pm CST airing on Disney–ABC Television Group's cable network Freeform (formerly ABC Family). It is hosted by Pat Robertson, Gordon P. Robertson, Terry Meeuwsen, and Wendy Griffith. The network is available to 92 million households in the United States and is available to satellite, digital, IPTV and digital streaming providers including; DirecTV (ch. 311), DISH Network (Ch. 180), AT&T U-verse (Ch. 1178 HD), Verizon FiOS (Ch. 699 HD), Comcast, Sling TV, DirecT Now, PlayStation, Hulu Live Vue.
A vocal group comprised of seven of ten siblings, The Showers grew up in Hammond, LA – a Christan household, and use their music to express their faith and spread the Lord's message to others. The Showers consist of six women (Angela, Ciara, Melody, Regina, Tabitha, and Tiffany) and 1 brother lead singer (Titus), all born and raised in Hammond, Louisiana, where their father is a pastor and mother serves as a missionary. Both parents came from musical families, and music filled the house while the children were growing up, as they sang at home and during services.
In 2014, the group self-released their natonal debut album, The Showers Family Groupon their family-owned record label A&P Records and spawned two Billboard Top 25 Gospel Airplay radio singles, "Better" (No. 13 peak) and "Immediately" (No. 24 peak), both written and produced by acclaimed singer/ songwriter Deon Kipping. In 2015, The Showersearned a Stellar Award nomination for Traditional Group/Duo of the Year. On September 29, 2017, The group released their sophomore effort The Journey, produced by Tasha Page-Lockart and Bruce Robinson, Jr. The album debuted at No.1 on Nielsen Soundscan's Top Current Albums chart, earning their project another 2018 Stellar Award nomination for Contemporary Group of the Year. The Journey was one of the Top 15 Highest Gospel Sales debuts in 2017.