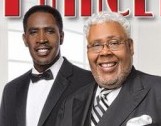 Start your week off right with the soulful tunes from the legendary Rance Allen Group. Purchase the highly anticipated album, Celebrate, TODAY in stores and online.
"Today is an exciting day for The Rance Allen Group," said Bishop Rance Allen. "Over the years, we have been blessed to create great music but with Celebrate we worked with new producers and a new approach, which resulted in a new sound that permeated the entire project. Our prayer is that our listeners will be moved by it."
Gospel music at its core, Celebrate blends contemporary, traditional and quartet altogether resulting in the unique sound that has been the signature of this Stellar award-winning group for the past 40 plus years.
"The sound is a whole lot of what you hear today yet still heavily influenced by the old school," adds Allen.
"Once again, the Rance Allen Group shakes up the gospel music community," says Bryant Scott, President of Tyscot. "Time after time, they provide us with great music…legendary music and we know Celebrate won't disappoint."
Celebrate Track Listing:
A Lil' Louder (Clap Your Hands)
Celebrate
Champion
Sounds Like Rain
Step Out
U R Not Alone
Turn It Around
Feel the Spirit
He's Real
Stay Focused
Through The Fire
Walking In the Sand
Something About The Name Jesus (Producer's Remix) feat. Kirk Franklin [Bonus Track only available on the Digital Album]