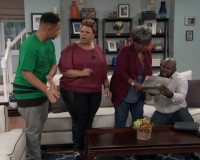 In this week's all-new episode of Bounce TV's hit original sitcom MANN & WIFE premiering this Tuesday, things get a little hairy when Daniel (David Mann) learns that a criminal he sent to prison years ago named "Slim Sauce" is back out on the street and plans to pay him a visit.  Though Daniel puts on a brave front for his family, he is secretly concerned about their safety and seriously steps up security precautions at home, putting the Mann household on lockdown!
Meanwhile, DJ is preparing for an upcoming video game tournament. When Toni (Tamela Mann) finds out there is a scholarship prize at stake, she tries to help DJ train for the competition and goes a little overboard.
MANN & WIFE has broken network ratings records as Bounce TV's most-watched original to date and has recently been renewed for a second blockbuster season. Tune in for big laughs on MANN & WIFE this Tuesday, May 19 at 9 p.m. ET/8 p.m. CT.