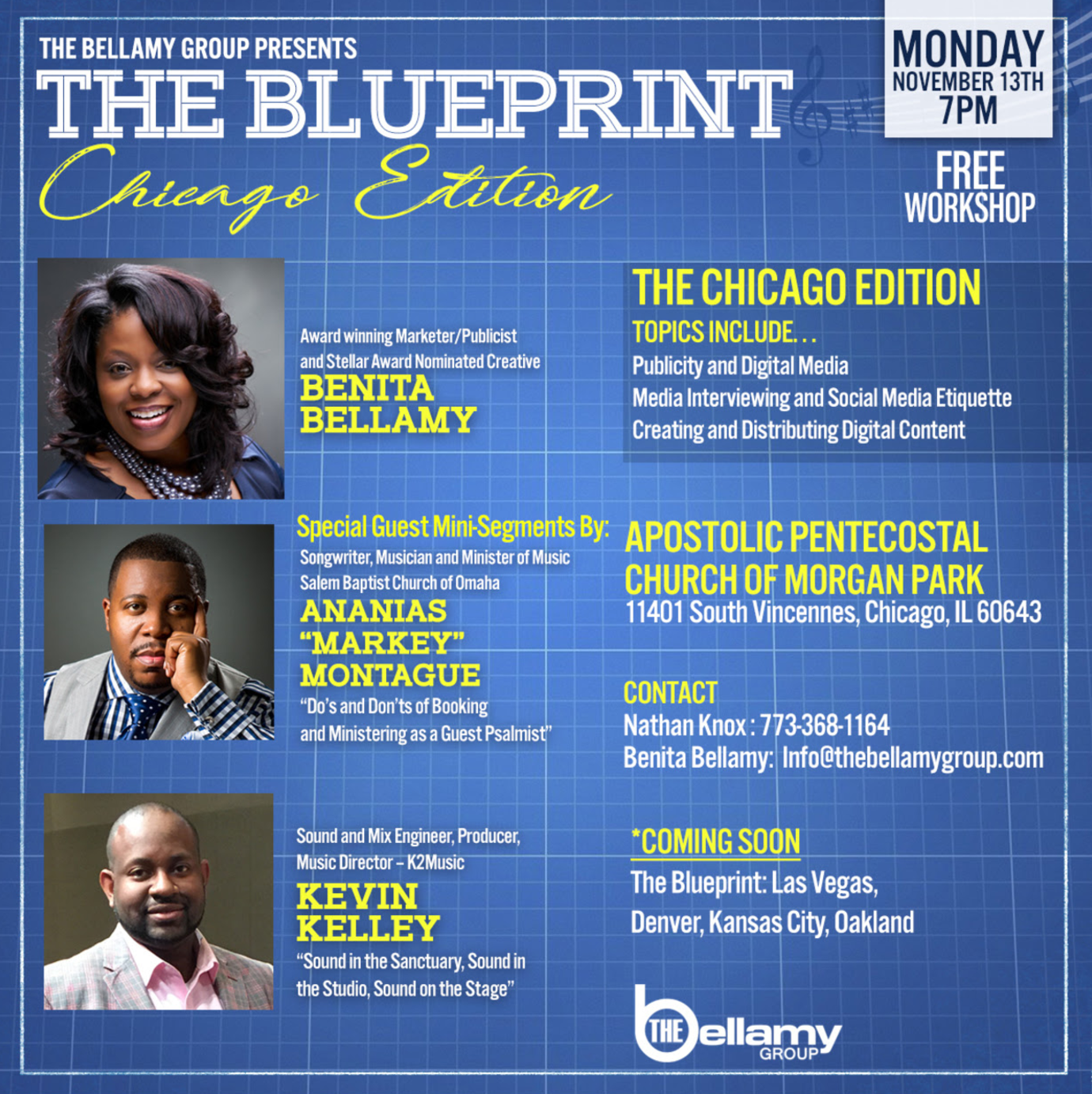 A "blueprint" is an original plan or prototype that influences subsequent design or practice.  There are practices, procedures and plans that lead to successes in business and in life.  Certain influencers have contributed to and have established a blueprint(s) for success in music and entertainment.  One of those influencers is sharing that information through an all new series of seminars and workshops called THE BLUEPRINT.
THE BLUEPRINT is an educational and life inspiring session with multiple award winning Marketer/Publicist and Stellar Award Nominated Creative BENITA BELLAMY, CEO of The Bellamy Group in Nashville, TN.  Benita will offer in-depth relevant information about strategic Marketing and Music Business tactics for artists, ministry administrators, music industry professionals and creatives. These sessions have been created to provide attendees a solid blueprint of proven strategies, accurate policies and procedures, and innovative tools for success in music, arts and ministry.
Each city and session will have a particular focus on various topics of interest including, but not limited to: Artist Development, Social Media, Publicity and Media, Music and Arts Ministry, Booking and Management, Digital Marketing and Monetization, Touring and Gigs, Production and Sound Engineering, Music Equipment and Technology, Creative Marketing and Design, Personal Finance for Artists, and more.  
THE BLUEPRINT: Chicago Edition topics will include: Publicity and Digital Media, Media Interviewing and Social Media Etiquette, Creating and Distributing Digital Content.  Also, for these one of a kind sessions, Benita will bring special guests – experts, executives and leaders in Music and Entertainment, Performing Arts, Ministry, Business and Finance from across the country.   Joining Benita for the "Chicago Edition" are Minister Ananias "Markey" Montague and Kevin Kelley.  
Minister Ananias "Markey" Montague is a native of Chicago.  He is a songwriter, musician and currently the Minister of Music at Salem Baptist Church in Omaha, NE.  Minister Montague will present an engaging and informative segment on "Do's and Don'ts of Booking and Ministering as a Guest Psalmist".  Minister Montague has worked with Richard Smallwood, Ricky Dillard, Kim McFarland, Lyle Lovett and has toured Europe spreading the Gospel through song.

Kevin Kelley is a sound and mix engineer, a producer, a music director and a highly sought after drummer.  Kevin is a native of St. Louis, MO and has played drums for Yolanda Adams, Tony Bennett, Shirley Murdock, Erykah Badu, Ramsey Lewis, The Temptations and many more.  Kevin will share crucial information about – "Sound in the Sanctuary, Sound in the Studio, Sound on the Stage". 
There will be BLUEPRINT sessions forthcoming in Las Vegas, Denver, Kansas City and Oakland with more scheduled in the future.  THE BLUEPRINT: Chicago Edition is open to the public and is free of charge.  For more information, contact Nathan Knox – 773-368-1164 or contact Benita directly at 

[email protected]

.

THE BLUEPRINT: Chicago Edition


Monday, November 13 / 7PM


Apostolic Pentecostal Church of Morgan Park
Bill Ellis, Host Pastor
11401 South Vincennes
Chicago, IL 60643
For more info contact:  Nathan Knox – 773-368-1164