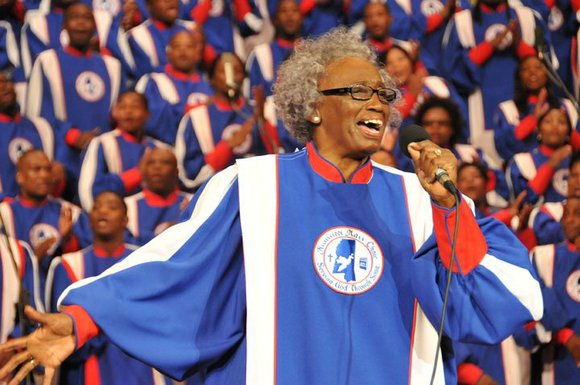 The award-winning Mississippi Mass Choir to appear on Discovery Channel's #1 series "Expedition Unknown." The episode entitled "Search For The Afterlife – Heaven and Hell," explores religions and cultures from around the world. It will air on the Discovery Channel on Sunday, October 7, 2018, 9:00PM CT / 10:00PM ET. Please check your local listing.
About Mississippi Mass Choir
For thirty years, the awesome talent of the Mississippi Mass Choir has touched gospel fans. Some faces have changed, but the choir's mission remains the same; "evangelizing the world in song."
Reaching down to the root of this gospel powerhouse, one finds a very humble beginning. Frank Williams, founder of the group, began singing gospel music in churches as a child, spending his evenings immersed in the sounds and ways of the gospel under the guiding hand of his father, Leon. Frank performed with his siblings, the acclaimed Williams Brothers, and later joined his brother Huey Williams with the legendary Jackson Southernaires.
After many years of touring as an artist, Frank had a vision that the great and soulful voices of Mississippi needed to be captured in a choir. For nine years, this idea grew in his mind until he could contain it no longer. He approached his gospel-writing friend, David Curry, with his ambitions and the rest is history!
On October 29, 1988, Five months after their first rehearsal, the 150-voice aggregation recorded its first album and video. It can truly be said that they were an "overnight success. The album entitled "Mississippi Mass Choir Live" remained in the No. 1 slot atop the Billboard Magazine Top Gospel Charts" for 45 consecutive weeks – setting a record for a debut recording of any genre.
Their next three recordings "God Gets the Glory," "It Remains to be Seen," "Rev. James Moore Live with Mississippi Mass, and "Rev. James Moore Live with Mississippi Mass at Jackson State University" all reached the No. 1 position. Their first album after the untimely passing of Frank Williams in 1993, "I'll See You in the Rapture" reached the No. 2 slot on the Billboard Chart; second only to Kirk Franklin's recording-setting release.
All of their subsequent recording reached the top ten or top twenty positions. They have either won or been nominated numerous times for every music industry award, including the Stellar, Grammy, Soul Train, Dove, National Association of Record Merchandisers, 3M Visionary, Mississippi Governor's Award for Excellence in the Arts, and a host of others. Billboard Magazine recognized them on several occasions as "Gospel Artist of the Year."
They have ministered in song in over 40 states within the USA, including Alaska. They have been fortunate enough to travel to international stages in countries such as Japan, Italy, Spain, Bahamas, and Greece; becoming the first gospel group to perform at the Acropolis. While attending the famed Umbria Jazz Gospel and Soul Easter Festival in Terni, Italy, the choir was unexpectedly invited to sing for Pope John Paul II at his summer residence. On Christmas day in 2000 they performed with the 90-piece Tenerife Symphonic Orchestra on a live telecast throughout the Canary Islands and Spain.
Their body of work includes a national commercial for Nissan, and their indefatigable song "I'm Not Tired Yet" just completed a seven-month run as the theme song for the Scott Van Pelt Show on ESPN's Sport Center.
Their tenure in the gospel music industry has already reached legendary status and continues to grow. Jerry Mannery, Executive Director of the choir, states, "We are all about our Father's business. Our mission remains constant; to evangelize the world through music, and to spread the Gospel of Jesus Christ."