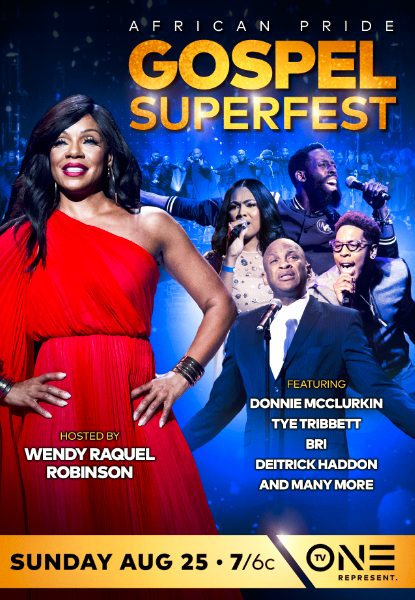 TV One will air THE AFRICAN PRIDE GOSPEL SUPERFEST on Sunday, August 25, 2019 at 7 p.m. ET/6C followed by an encore presentation at 8 p.m./7C. Held at the Schuster Performing Arts Center in Dayton, Ohio, the 19th annual celebration will bring together gospel recording artists and celebrities for one of America's most anticipated television events in urban gospel.
Hosted by film and television star Wendy Raquel Robinson, the one-hour telecast will feature a musical celebration honoring Pastor Donnie McClurkin with guest performances by Deitrick Haddon, Sensere, J. Moss, Tye Tribbett, The Shelby 5, Isabel Davis, Micah Stampley, Byron Cage, Demetrius West & JP and many more.
Don't miss a memorable evening of performances, uplifting entertainment, and a salute to gospel luminaries and their musical legacies.
THE AFRICAN PRIDE GOSPEL SUPERFEST is produced by Cartwright Entertainment Group with Bobby Cartwright Jr. and Renita A. Cartwright serving as Executive Producers.
About TV One:
Launched in January 2004,  TV One serves 59 million households, offering a broad range of real-life and entertainment-focused original programming, classic series, movies and music designed to entertain and inform a diverse audience of adult black viewers. The network represents the best in black culture and entertainment with fan favorite shows The DL Hughley Show, Uncensored, Unsung, ATL Homicide, Fatal Attraction and Urban One Honors. In addition, TV One is the cable home of blockbuster drama Empire. TV One is solely owned by Urban One, Inc., formerly known as Radio One, Inc. [NASDAQ: UONE and UONEK, www.urban1.com], the largest African-American owned multi-media company primarily targeting Black and urban audiences.
About African Pride Gospel SuperFest:
The African Pride Gospel SuperFest is one of the nation's largest TV recordings in the field of urban-targeted, inspirational music and entertainment. Founded in 1998, the show has maintained a consistent presence in broadcast syndication for nineteen consecutive years. Releasing five one-hour specials annually, the shows are carried by major network affiliates including ABC, CBS, NBC, FOX, CW, MYTV and full power independent stations nationwide. The production is known for its elaborate staging, trendsetting production and Hollywood styled approach to gospel music television. African Pride Gospel SuperFest TV programming reaches millions of TV viewers annually via domestic syndication and Cable. Previous productions have aired on TV One, Aspire, Bounce, TBN, Word, Daystar and ION networks making Gospel SuperFest the most widely distributed TV brand in the history of black gospel music. Gospel SuperFest has been supported nationally by Procter & Gamble, Johnson & Johnson, Wal-Mart, Allstate Insurance, General Motors, Ford and others. Gospel SuperFest is a trade name of Unity Media Limited of Ohio.
About African Pride:
For thirty years, African Pride has addressed the hair care needs of all hair types and textures whether natural or relaxed with brands like Black Castor Miracle, Moisture Miracle, Shea Miracle, Olive Miracle and Dream Kids. African Pride is committed to creating affordable, effective products made from quality ingredients and marketed with integrity and respect. For more information about African Pride's full family of products, visit AfricanPrideHair.com. You can also join the African Pride conversation on Facebook (@MyAfricanPrideHair), YouTube (@AfricanPride), and on Instagram and Twitter (@MyAfricanPride). To start your own conversation about the brand, use its official hashtag #FeelingMyPride.