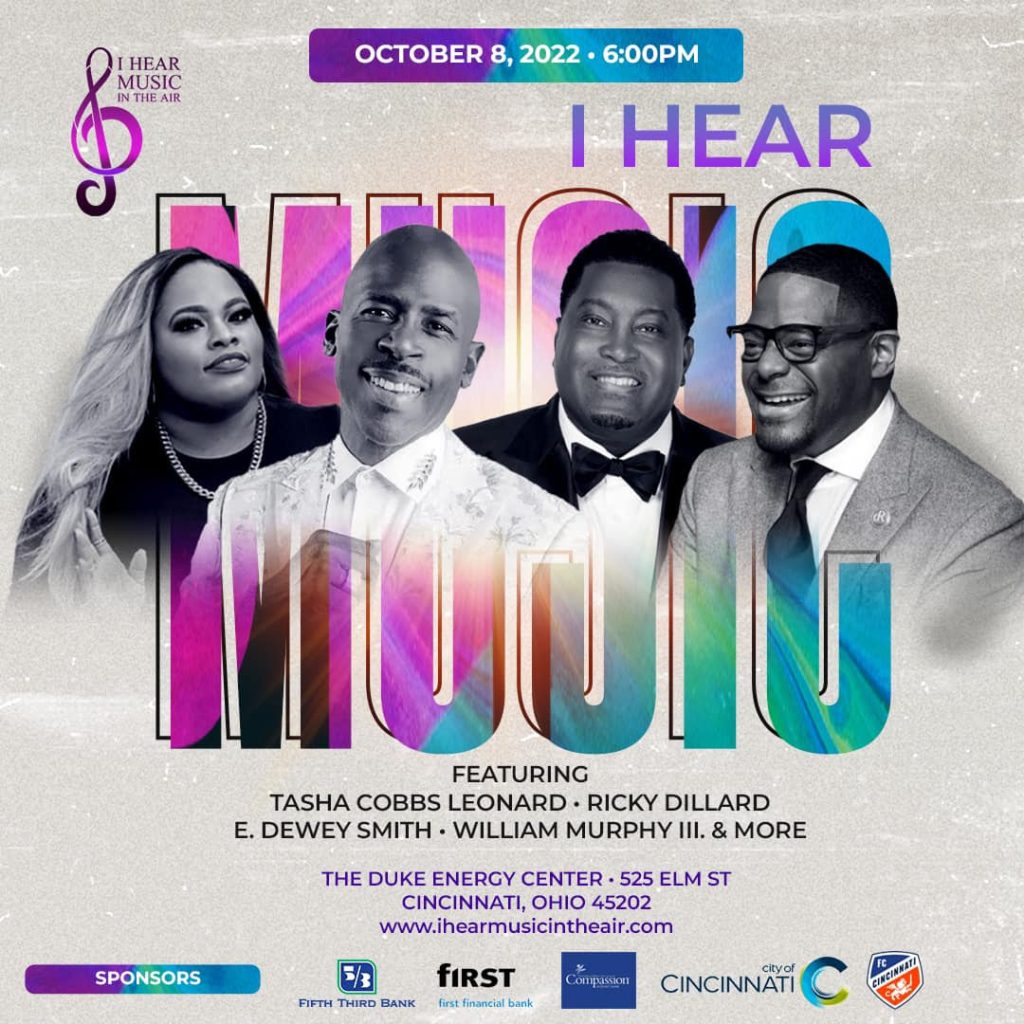 The annual I Hear Music in the Air Conference is in its 21st year. This year's concert theme is "A Night of Healing" and it will be held on Saturday, October 8th, 2022, at the Duke Energy Convention Center (525 Elm St. Cincinnati OH 45202). The evening aims to connect all under the umbrella of music and address the issues that directly impact the local city community including homelessness, poverty, and food insecurity.
The annual I Hear Music Concert returns this year with a star-studded lineup. Grammy Award winner Tasha Cobbs Leonard will headline this year's concert and will be joined by William Murphy III, Ricky Dillard, E Dewey Smith and more. BET 'Sunday Best' winner Keyla Richardson will open the evening concert. Joining the pre-show will be Rameco Lattimore & TWC, Loretta Merritt, and Lenasia Tyson. Themed "A Night of Healing" the concert should serve as an inspirational vehicle that brings attendees and community leaders together. A reception is planned prior to the event to bring community leaders together. Informational resources will be provided that night so that attendees can be armed with the resources needed to have healthy lives.
This year's sponsors include the City of Cincinnati, Fifth Third Bank, Metro, Health Gap, First Financial Bank, Compassion International, and community supporter United Way.
Visit www.ihearmusicintheair.com for more details.
About I Hear Music Inc.,
I Hear Music Inc., is the brainchild of Gospel Industry Executive Tracey Artis. Over the past twenty-five years, Artis has developed groundbreaking ideas and concepts to enhance the exposure of the artists she has had the pleasure of working with side by side. These concepts later proved to be the foundation for her company I Hear Music, Inc which she began in 2001.
I Hear Music Inc., is a promotion and marketing firm that represents gospel artists and produces special events. The company's most noted event, the annual I Hear Music in the Air Conference (now in its 21st year of success) is held between the summer and fall annually in Cincinnati, OH, and is designed with specific educational tools that teach business-minded individuals how to market and be successful in the music industry and beyond. This innovative approach to teaching and enhancing individuals serves as the base of the company.