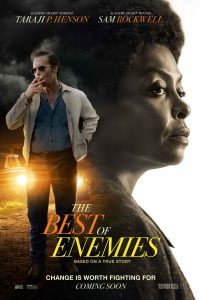 THE BEST OF ENEMIES is a timely drama starring Academy Award® nominee Taraji P. Henson (Hidden Figures) and Academy Award® winner Sam Rockwell (Three Billboards Outside Ebbing, Missouri).
Based on a true story, THE BEST OF ENEMIES centers on the unlikely relationship between Ann Atwater (Henson), an outspoken civil rights activist, and C.P. Ellis (Rockwell), a local Ku Klux Klan leader who reluctantly co-chaired a community summit, battling over the desegregation of schools in Durham, North Carolina during the racially-charged summer of 1971. The incredible events that unfolded would change Durham and the lives of Atwater and Ellis forever.
uGospel.com had the opportunity to speak with Bill Riddick who is one of the real life chracters about how the film came about: Listen Below:
In addition, checkout the interview with Taraji P. Henson as she talks about her roll in The Best of Enemies:
About the Film:
In 1971, Ann Atwater and C.P. Ellis were well-known residents of Durham, North Carolina, but certainly not a pair you'd expect to see together.
Ann Atwater (TARAJI P. HENSON), 32, was a single mother, raising her daughters in East Durham. Brazen slumlords, firetrap schools and do-nothing local officials were daily facts of life, but Ann fought back as a grass roots activist at Operation Breakthrough. Roughhouse Annie, as some called her, was a blessing to her neighbors, and a threat to her foes.
C.P. Ellis (SAM ROCKWELL), age 44, eked out a living at a tiny East Durham gas station. He owned the place, but in Durham he'd always be a "linthead" – poor white trash – just like his millhand dad, and his own four kids. C.P. joined the KKK because he wanted to belong. They listened when C.P. spoke, and by 1971, he'd become their voice as Durham's Exalted Cyclops of the Ku Klux Klan.
The idea of Ann and C.P. ever exchanging a civil word was close to unthinkable. But in writer- director ROBIN BISSELL's THE BEST OF ENEMIES, a dramatic feature film inspired by true events, these two bitter rivals are forced to start talking to resolve a crisis in their dangerously divided city.
Despite the Supreme Court's landmark Brown v. Board of Education ruling in 1954, Durham's public schools were still segregated in 1971, and when fire struck a black neighborhood school, the city decided those students would have to finish the year at the damaged building. Better that, they said, than over-crowding the kids at the white school. With elections coming up, Councilman Carvie Oldham (BRUCE McGILL) and Garland Keith (NICK SEARCY) of the White Citizens Council were not about to rock the boat. But that boat completely changed course when Bill Riddick (BABOU CEESAY) was brought on board to resolve Durham's escalating crisis with a charrette.
Be Sure to checkout the film April 5, 2019
About Bill Riddick:
"Bill" Riddick has worked in the area of human services for more than 35 years, providing organizational management, substance abuse programming, and program evaluations for clients throughout the United States.  As President of Skills Management Group, Inc., a consulting firm, Riddick has facilitated training sessions and workshops in 38 different states, as well as in Canada, Jamaica, and the Virgin Islands.
Riddick is also the author of the book The Charrette Process: A Tool in Urban Planning. He was featured in the televised documentary, An Unlikely Friendship, for his role in defusing racial tensions in Durham, North Carolina, with a charrette in 1971. The Durham charrette also inspired the play The Best of Enemies, which premièred in 2011 and has been presented in regional theaters across the country.
Riddick was born in Hertford County, North Carolina. He received his high school diploma from C. S. Brown High School in Winton, and earned a B.S. degree in Agricultural Engineering from North Carolina A&T State University in Greensboro. From North Carolina State University in Raleigh, he earned a Master's degree in Continuing Education with a special emphasis in Adult Counseling. He has done additional studies at Northeastern University in Chicago, Illinois, and at the University of Georgia at Athens.
At the University of North Carolina in Chapel Hill (UNC-CH), Riddick served as Coordinator of Special Programs to prevent the use and abuse of drugs and alcohol. In addition, he was a special consultant in life skills development to the UNC-CH student athletes, and co-founder of The North Carolina Governor's Academy for Prevention Professionals (GAPP). He served as Dean of this Academy for 15 years. Approximately 700 adults (from every county in North Carolina) have graduated from GAPP.
His many career honors include the prestigious Chancellor's Award for Outstanding Service to the University of North Carolina at Chapel Hill, and the Roney Cates Award as an Outstanding Substance Abuse Prevention Professional for the State of North Carolina.
Riddick is married to Delores "Dee" Page Riddick and is the father of three adult children – Saneva Riddick Zayas of Upper Marlboro, Maryland, Sharon Bennett of San Antonio, Texas, and W.L. Riddick, III of Troy, Michigan. He is "Papa Bill" to his seven grandchildren.
Riddick's faith life is essential to him, and he is an active member of Martin Street Baptist Church in Raleigh, North Carolina. He is a faithful participant in Bible Study Fellowship-International (BSF-I), and it remains a major part of his life.
Although Riddick is a sports enthusiast, all sports pale in comparison with golf