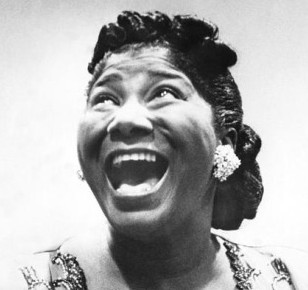 Super-talented vocalist, Angela Primm, has been chosen as a featured soloist on the Gaither Homecoming concerts and videos. Known for years as the most sought after studio singer in Nashville, Angela has come into her own as a phenomenal featured performer garnering ovations wherever she sings.
Stepping into the spotlight meant that Angela had to step up to the recording arena for herself. In doing so, she chose to pay tribute to one of her heroines, Mahalia Jackson. Known as the Queen of Gospel Music, Mahalia set the standard for many singers, both black and white. Many of the Gospel quartets of the 40s and 50s covered Mahalia's songs.
Angela said, "While studying the songs of Mahalia Jackson and embracing the heart of the Spirituals in my culture, I rejoice that my heritage is strong and my faith is sure!  God has truly blessed His messengers of song and I simply aspire to be one of them. There are so many intricate details of Sis. Jackson's life that layered the rich sound she carried and if you listen to her voice carefully, you will hear them.  You will hear her joy and sadness, her victories, her loves, her rejections and her steadfast determination. I only desire to continue this same message of passion with my life that undoubtedly says, 'God is able and I trust Him.' This is the good news of the Gospel of Jesus Christ.  This is why a gospel singer is born…to proclaim His Goodness.  I pray though these songs may be familiar to your ears, they will enlighten your heart anew and rekindle or reinforce your first love in Him."
Recording Mahalia's songs meant that the songs has to have something just a little different about them to get the attention of the music world. These are Mahalia's songs with an Angela twist. Angela put her special touch on each of these songs to make them her own, but keeping the honor due to Mahalia.
The recording sessions were so exciting that Mark Lowry put excerpts of the sessions on his FaceBook page.
Produced by Chip Davis with such artists as Gale Mayes, Chip Davis, Devonne Fowlkes, Gene McDonald, and Angela Primm herself, this project will stand alone as one of the greatest CDs of the year.
The song-list includes:
Walk In Jerusalem (Traditional)
I Found The Answer (Arrangement by Geron Davis, Chip Davis, and Angela Primm)
Sweet Little Jesus Boy (Traditional)
Just A Closer Walk With Thee (Arrangement by Angela Primm)
Precious Lord (Traditional)
Come On Children, Let's Sing (Traditional)
Is Your All On The Altar? (Traditional)
Elijah Rock (Arrangement by Angela Primm)
Evening Prayer (Arrangement by Chip Davis and Angela Primm)
Battle Hymn of the Republic (Arrangement Angela Primm and Chip Davis)