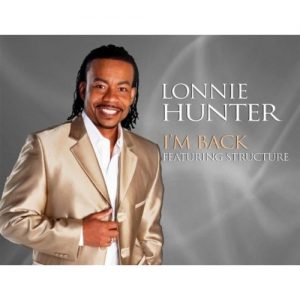 New Single Is #15 On Billboard Hot Gospel Songs Chart
First CD In Almost A Decade Hits Stores April 26, 2011
Billboard magazine's 2010 #1 indie gospel label CEO Kerry Douglas welcomes veteran recording artist Lonnie Hunter into his Blacksmoke Music Worldwide family that includes catalogue music by chart-topping gospel artists such as James Fortune & FIYA, Keith Wonderboy Johnson, Earnest Pugh and Evelyn Turrentine-Agee.
It's been eight years since Hunter's last CD. His new project, I'm Back, will hit retail stores and online portals on April 26, 2011.  Backed by Hunter's choir, Structure, the brilliant new project features lively arrangements of church classics such as "Wade in the Water", "Holy Holy Holy" and "I Know The Lord Will Make A Way." Other standouts include the soulful ballad "Anyway" and the upbeat, take it to church, "The Holy Ghost is Moving". The bustling CD title song features a joyful urban vamp and an inspiring "second chance" message. Within six quick weeks, the song has leaped to #15 on this week's Billboard Hot Gospel Songs chart and continues to build momentum.
The youngest of five children, Hunter was raised around Chicago's gospel music community as his mother sang background for a variety of gospel artists. She died when he was eight years old and he vowed to fulfill her musical ambitions. Aside from a dual career in the public relations field and a three-year stint as a runway and print model, music has always been Hunter's first love. He was a soloist for the U.S. Air Force Jazz Band and a celebrated gospel choir conductor. He's best known for his work with the Voices of St. Mark Choir where he produced three CDs for Malaco Records resulting in the hits "Even Me" (The Drip Drop Song)", "Let's Dance" and "There's Power In His Name". He began his radio career with Chicago's #1 WGCI gospel radio station before Radio One tapped him as a midday host for the syndicated "The Lonnie Hunter Show" that airs across the country. He also serves as Pastor of Worship at Bethany Baptist Church, a 27,000-member church in Lindenwold, NJ, where Bishop David G. Evans is the Pastor.