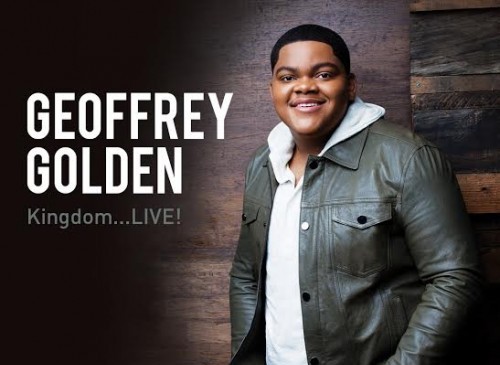 On Friday, August 7, 2015, Fo Yo Soul Recordings/RCA artist and winner of the seventh season of BET's popular show, Sunday Best, Geoffrey Golden, will release his debut album, Kingdom…LIVE!. The highly anticipated CD was recorded in Dallas and features 11 stellar tracks, including the stand-out, lead single, "All of My Help".
Executive produced by his mentor and Fo Yo Soul Recordings CEO Kirk Franklin, and co-produced by hit-makers Myron Butler and Shaun Martin, Kingdom…LIVE! showcases Geoffrey Golden's rich talent as both a live performer and a songwriter. The 21 year old's passionate ministry comes alive on songs such as "You Will Perform," "All Things Get Better," "Changed" and more.
"On the night of the live recording, I was amazed at the level of music and ministry that came out of this young man!" says Kirk Franklin.  "It has been a joy watching Geoffrey develop on Sunday Best and partnering with him as he takes the first steps in what I believe will be a lasting career in gospel."
While prepping for the release of Kingdom….LIVE!, the Cleveland, OH native will be making a number of promotional appearances including, The Kirk Franklin Show (Kirk Franklin's Praise, Sirius XM) premiering on Friday July 31st at 12pm ET/11am CT/9am PT.   Golden will also return to BET's Sunday Best, now in its eighth season, for a guest performance which will air on Sunday, August 9th.
After hitting the road in Washington DC, Baltimore, Philadelphia, Raleigh, and Atlanta, Golden will host a free concert event in honor of Kingdom…LIVE! on Monday, August 10th at Mt. Zion of Oakwood Village in Cleveland (1 Mt. Zion Circle, Cleveland, OH 44146). The evening will feature special appearances from guest artists, Christon Gray, Deitrick Haddon and Tasha Page-Lockhart.
Kingdom…LIVE! will be available everywhere music is sold.
Kindgom…LIVE! Track Listing
Unto God
Expectation
A Song Called He Reigns featuring Kirk Franklin
All Of My Help
You Will Perform
All Things Get Better
Seek First
Changed
Heavenly Places (Geoffrey Speaks)
Glory To The Lamb
Kingdom