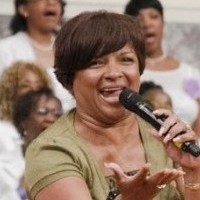 The Temple of Deliverance Women's Choir's latest hit "Keep Me Everyday" is catching on at gospel radio stations all over the country. Led by the legendary Grammy® Award nominated vocalist Lisa Page Brooks, the Jazzy mid-tempo has risen to the Top 50 on the Nielsen BDS Gospel Airplay chart. Brooks and the choir will reprise the song this Friday, February 20 @8:00 PM EST when they perform it on the "Rejoice in the Word" program on The Word Network cable channel.
The appearance comes on the heels of the choir receiving its first Stellar Award nomination as Best New Artist of the Year for its Billboard Top Ten debut album "In The Sanctuary" (Habakkuk Music). The Stellar Award winners will be announced in a ceremony taking place at the Orleans Arena in Las Vegas on March 28th and the program will air on the TV One cable network on Sunday, April 5, 2015 @TBA. Aside from Lisa Page Brooks, the project features guest appearances by Tamela Mann, Karen Clark Sheard, Carla Tolbert Taylor and Lena Starks. The collection features two other radio chart hits with the Top 20 smash "Everybody Praise" and also the rousing "Breakthrough" that climbed to #34 on the Gospel Airplay chart. The set is on sale online at http://smarturl.it/83i9z3, Amazon.com and Google Play.
All proceeds from the soul-stirring collection benefit the choir's year-round fundraising efforts for various charitable causes in Memphis, throughout the USA and abroad. The Temple of Deliverance church has donated over $75,000 to cancer research and various regional and global relief efforts thus far and continues to raise funds for charities.