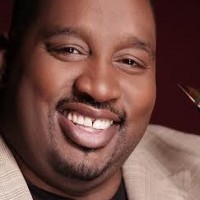 Saxophonist Phil French has played with the cream of the crop.  His resume reads like a who's who of the music industry.  He's performed with artists and musicians such as The Winans, The Clark Sisters, Fred Hammond, Richard Smallwood, Kim Burrell, Yolanda Adams, Ben Tankard, Stanley Turrentine, Grover Washington, Jr., Norman Connors, Ramsey Lewis, Najee and a slew of others.
A producer, songwriter, arranger, recording artist and engineer as well, French has ministered his anointed artistry nationwide for years now.  Recently partnering with popular producer, composer, instrumentalist and Gospel Jazz artist Terrence Richburg and his Stellar Award-Nominated record label, RichEscape Music, Phil French is putting the finishing touches on his upcoming CD, Everlasting…Featuring Terrence Richburg.  The CD will be available on January 27, 2015.
Phil French is thrilled about the new musical offering and the chance to work with his mentor.  He says, "More than any other CD I've done, I loved the process of recording this album.  I am so used to doing the producing, the recording, the engineering and everything else.  With Terrence at the helm of production, it allowed me the opportunity to be the artist.  What we've created, I think, is awesome.  In my opinion, every single song is a strong one."
Easily flowing musically from the sacredness of a Sunday morning church service to the jazzy atmosphere of a Blues Alley, Phil French has the uncanny ability to touch a variety of audiences.  Everlasting…Featuring Terrence Richburg is perfect for the Gospel music lover and the smooth jazz lover.  The upcoming CD is a spirited collection of largely inspirational instrumental music, created to uplift the heart and soothe the soul.
On Everlasting, all songs were penned and arranged by Richburg who steps into the role of instrumentalist and background vocalist in addition to producer.  Songs like the soulful and melodic "In My Heart" and the captivating and groove-laden "Wave Offering" take the listener on a sonic and enjoyable journey.  Other superb cuts include the syncopated "Twilight" and the unforgettable "Consider Now Eternity".  Although most songs are strictly instrumental, Richburg and his wife Kathy's impressive vocals, are sprinkled throughout the dynamic project.