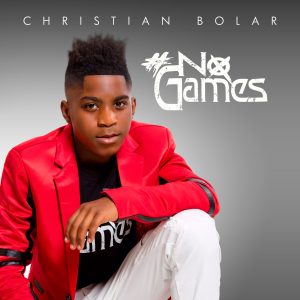 Christian Bolar is "not your average kid." In fact, that's one of the lines taken from his newly released single "No Games." Written & produced by hit-producer Daniel Bryant (Tamela Mann, G.I., Tasha-Page Lockhart), "No Games" brings a fresh urban sound to the industry with its infectious beat and lyrics that will reach young people all over the world. Some of the lyrics in the verse boast: "I ain't with all  of that gang talk. I just want to hear The King talk. I got angels watching over me, peer pressure ain't folding me."Christian is a 12-year-old singer, musician, athlete, actor, and talk show host.One may wonder how a kid Christian's age can balance so much? According to Christian, the answer is simple: Keep God first, work hard, and stay humble.
A native of Richmond, Virginia, Christian was always destined to make his musical mark hailing from a musical family. He is the great grandson of the late Lonnie Liston Smith, Sr. of the Legendary Gospel Group. The Harmonizing Four.  Christian started singing at the age of 5. He started playing the piano shortly after. At the early age of 8, he received his first acting break in "The Wiz" as the Tinman. He would later land roles in popular musicals such as "Under the Sea" (Sebastian) and "Annie" (Will Stacks). Christian has had a love for the drums since he was a toddler. A self-taught drummer, he is now a member of his middle school band. At age 9, he started playing the guitar and is now teaching himself how to play the trumpet.
Christian is co-host to the popular talk show "Youthful Voices,"which airs on the Comcast Cable Network in the Virginia area. His debut EP "Speak It" was released in 2019 on BGA Records (home to Gospel's leading Male Urban Trio G.I.) and hit # 5 on the Billboard Charts.Christian is a motivational speaker and loves being an inspiration to others. Christian says he's grateful for all the gifts God has blessed him with and he hopes to inspire his generation to be the best they can be.
Be sure to download and stream "No Games" today and follow Christian on social media (officialchristianbolar). For concerts, speaking engagements, or hosting requests, call 804 869 4708 or email [email protected].
Click below to check out "No Games"
Check out the Official "NO GAMES" Music Video