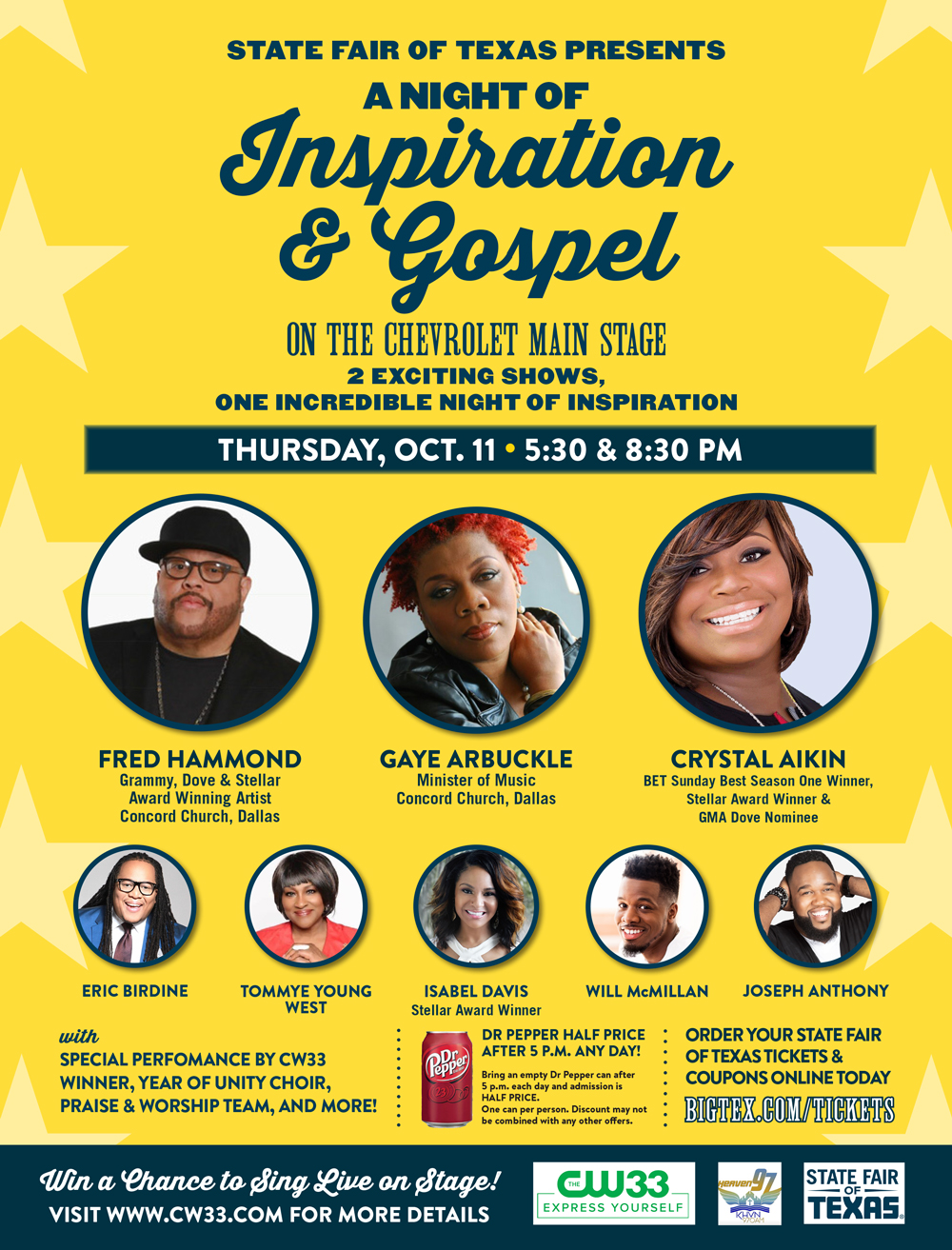 The State Fair of Texas welcomes back A Night of Inspiration and Gospel Music to the Chevrolet Main Stage Thursday, October 11 for two incredible shows, ONE EXCITING NIGHT 5:30 and 8:30 p.m. This night of inspiration is one of the biggest Gospel nights in the metroplex and will again display its annual theme of UNITY in the COMMUNITY.
The night will feature a 100-voice ecumenical MASS choir, Grammy, Dove, and Stellar Award winning National Gospel Recording artist Fred Hammond, BET's Sunday Best, Stellar Award winner, GMA and Dove nominee, Crystal Aikin, Grammy Nominated Producer Myron Williams, National Recording Artists Gaye Arbuckle and a host of other artists including a praise team made up of members from Highland Park and St. Paul UMC.
"A Night of Inspiration and Gospel is meant to bring joy to the fairgoers", said Toska Medlock Lee, event founder and organizer. "To have a dedicated evening to bring all denominations, ethnicities and faiths together for an evening of inspiring music coming from the Chevrolet Main Stage are amazing, she said".
"Our community and country are in such a state that if we are able to do good will among all people, we should jump at the chance. – and singing music that gives hope and assurance is a start."
A Night of Inspiration and Gospel is for everyone. The concert is free with admission in to the State Fair and open to the public. Enjoy the Fair for half-price with an empty Dr. Pepper can after 5pm on Thursdays, October 11 and every Thursday. (One can per person, discount may not be combined with any other offers) and for foodies enjoy Thrifty Thursday with special prices for food all day long.