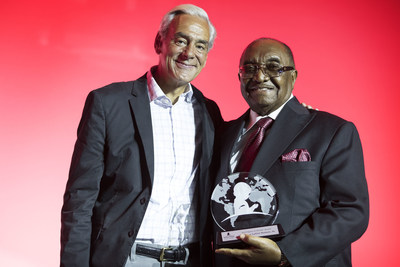 ALSAC, the fundraising and awareness organization for St. Jude Children's Research Hospital, has awarded Dr. James LaVirt Netters Sr. with its annual "Spirit of ALSAC" award. The annual award honors St. Jude friends and advocates who have provided significant support to ALSAC in terms of inspiration, fundraising or awareness efforts to help St. Jude continue leading the way the world understands, treats and defeats childhood cancer and other life-threatening diseases.
Dr. Netters currently serves as pastor emeritus at Mt. Vernon Baptist Church-Westwood and has served the congregation for more than 61 years, making him the longest tenured pastor of a single church in the City of Memphis. Before becoming pastor emeritus in May 2018, he was the congregation's senior pastor.
"My sincerest appreciation to everyone involved at St. Jude Children's Research Hospital for this wonderful award," said Dr. Netters. "On behalf of my fellow Memphians, we thank everyone associated with this world-class institution for the critical role it plays in helping children and families around the world overcome childhood cancer and other life-threatening diseases."
A native of Aliceville, Ala., Dr. Netters received his Bachelor of Arts degree in 1963 from Lemoyne-Owen College and began teaching in the Memphis City Schools. It was during that time that he became active in the civil rights movement, traveled to Washington D.C. and was on stage as Dr. Martin Luther King, Jr. delivered his "I Have a Dream" speech.
The following year Dr. Netters and six others were the first arrested during the bus sit-in demonstrations. Their bold effort was successful at having buses in the city integrated weeks later. A few years later the church joined Dr. Netters in his successful campaign to be elected to the new Memphis City Council. Dr. Netters, Rev. J.O. Patterson and Mr. Fred Davis were elected as the first African American councilmen.
During his first year as councilman the sanitation strike began, bringing national labor and civil rights figures, including Dr. Martin Luther King, Jr., to Memphis. Dr. Netters worked tirelessly in public and behind the scenes and was instrumental in working out an agreement to end the strike. Unfortunately, Dr. King was assassinated in Memphis on April 4, 1968 and did not live to see the resolution.
"It is such a privilege for us to present Dr. Netters with the Spirit of ALSAC Award, especially during the 50th anniversary of Dr. King's untimely passing here in Memphis," said Richard C. Shadyac Jr., President and CEO of ALSAC. "When Danny Thomas founded ALSAC in 1957, he vowed the organization would be dedicated to the parable of the Good Samaritan and we are honoring Dr. Netters because he is the embodiment of loving and caring for our neighbors regardless of color or creed – his lasting legacy of courage and servant leadership inspire us daily to continue raising the funds and awareness necessary to support the children of St. Jude Children's Research Hospital."
About St. Jude Children's Research Hospital®

St. Jude Children's Research Hospital is leading the way the world understands, treats and defeats childhood cancer and other life-threatening diseases. Its purpose is clear: Finding cures. Saving children.® It is the only National Cancer Institute-designated Comprehensive Cancer Center devoted solely to children. Treatments invented at St. Jude have helped push the overall childhood cancer survival rate from 20 percent to more than 80 percent since the hospital opened more than 50 years ago. St. Jude won't stop until no child dies from cancer. St. Jude freely shares the discoveries it makes, and every child saved at St. Jude means doctors and scientists worldwide can use that knowledge to save thousands more children. Families never receive a bill from St. Jude for treatment, travel, housing or food – because all a family should worry about is helping their child live. Join the St. Jude mission by visiting stjude.org, liking St. Jude on Facebook (facebook.com/stjude), following St. Jude on Twitter (@stjude) and subscribing to its YouTube channel (youtube.com/user/MyStJude).