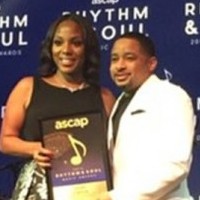 The American Society of Composers, Authors and Publishers (ASCAP) celebrated its 28th Annual Rhythm & Soul Awards in Los Angeles, CA. Amongst the performers and award recipients was Tre'Myles/Motown Gospel Artist, Smokie Norful who received recognition for "No Greater Love" in the Top Gospel Songs Category.
Below is a full recap of the event:
The American Society of Composers, Authors and Publishers (ASCAP) hosted its 28th annual Rhythm & Soul Music Awards on Thursday, June 25th, 2015 at The Beverly Wilshire Hotel in Los Angeles. The invitation-only event paid special tribute to Lauryn Hill, who also performed a medley of her hits during the evening. Additionally, ASCAP honored the songwriters and publishers of the most performed ASCAP songs on the 2014 R&B, hip-hop, rap and gospel charts.
During the ceremony, Hill, a Grammy Award-winning singer, songwriter, rapper and producer, was presented with the ASCAP Golden Note Award. The award is among the most prestigious honors that ASCAP gives to songwriters, composers and artists who have achieved extraordinary career milestones. Past recipients include: Pharrell Williams, Dr. Dre, Alicia Keys, Sean "Diddy" Combs, Jeff Lynne, Reba McEntire, LL Cool J, Jermaine Dupri, Jay Z, Lionel Richie, Stevie Wonder, Kenny Rogers, Quincy Jones, Elton John, Tom Petty and many more.
The Publisher of the Year Award went to Sony/ATV Tunes LLC.  Songwriter of the Year went to co-winners Timbaland and Jay Z. Timbaland, Beyoncé and Jay Z also received the award for Top R&B/Hip-Hop Song for "Drunk in Love." Kid Ink and co-writer Jeremih walked away with the Top Rap Song for "Show Me" featuring Chris Brown; while Bart Millard was honored with the award for Top Gospel Song for "I Can Only Imagine," (performed by Tamela Mann).
D.R.A.M. performed his up-and-coming song and Beyoncé favorite, "Cha Cha;" while Jazmine Sullivan did a powerful version of her ballad "Forever Don't Last." The evening also featured Migos performing their popular "Handsome and Wealthy," and gospel star Smokie Norful with his hit, "No Greater Love."
The evening drew an A-list audience of celebrities including Melanie Fiona, Timbaland, Jeremih, Tina Campbell, Kelly Price, Michelle Williams, Cheryl Fortune, BJ The Chicago Kid and more.