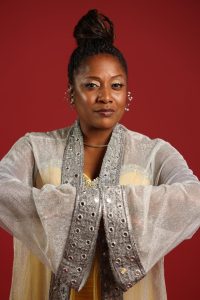 Psalmist, songwriter, educator, and motivational speaker Dr. Lisa Bellamy shares her music and inspirational messages to motivate people nationwide.  She sings with a mix of soulful jazz vocals and beautiful moments of pure and purposeful praise.
Her 2021 album WHAT WILL IT TAKE album boasted the Gospel radio single "Nothing But The Spirit," which reached #1 on the Urban Influencer Gospel Radio chart.  She and her husband, William Fluker, wrote and produced "In This House" with a blues and traditional sway.  Lisa received a 2023 Holla Back Award for Song of the Year and a 2023 Rhythm of Gospel nomination for "In This House."
Lisa and William have teamed up again in true power couple fashion to release another God-inspired album, SHARE THE LIGHT.
Lisa's SHARE THE LIGHT album includes "What Will It Take," which speaks to ending hate and the family's role in helping others.  Lisa duets with R&B crooner Tony Terry on "Last Day," which lyrically highlights the importance of living your life to the fullest.  She continues to offer the message of unconditional love through the groove of "What The World Needs Now."
SHARE THE LIGHT is a beautifully balanced mix of upbeat praise and anointed ballads to be enjoyed in quiet moments of meditative prayer.  The title track and radio single "Share The Light" features the Broadway voice and talent Avionce Hoyles.  The song is inspired by Matthew 5:16 – Let your light shine before others, that they may see your good deeds and glorify your Father in heaven.
Lisa has also released the official music video for "Share The Light."  The video contains joyful scenes with souls from various walks of life living a life of praise and in prayer at the altar – a vision of what heaven will be like.  The incredibly scenic music video was filmed in Scottsdale, Arizona, on the property of the featured guitarist, Steve Greenberg, a dear friend of Lisa's. Greenberg felt God inspired "Share The Light" and wanted to support the vision God gave Lisa by offering his preserved native land.
Watch "Share The Light" Official Music Video
SHARE THE LIGHT is available on all digital outlets now and is released by Nspyre Music Group, owned by Lisa and her husband.
"This is why we do this Great Commission work – to save souls," says Lisa.  She desires is to write and sing melodies that bring a sweet spirit of praise and worship into the heart, mind, and soul – creating an atmosphere of worship through a beautiful musical experience.