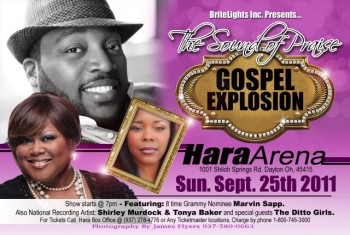 Coming home to minister is always a great feeling for Shirley Murdock, especially when she can share her music with friends and family.  On Sunday, September 25th, Shirley Murdock will be in concert with Marvin Sapp and Tonya Baker for the Sound of Praise Gospel Explosion in Dayton, OH.
This will be a special concert for Shirley as she sings new songs from her upcoming project, Live: The Journey.
Shirley is honored and excited to share the stage with Marvin Sapp and her hometown friend Tonya Baker.
"I am super excited about the Gospel Explosion coming to Dayton. Not only do I get to sing for my amazing hometown of 28 years, but I get to grace the stage with my fellow Daytonian, Tonya Baker and the incredible Marvin Sapp…Wow! It's going to be an awesome night and you don't want to miss it!"
For More Information on the Sound of Praise Gospel Explosion contact: Hara Box Office (937) 278-4776
Shirley Murdock Live: The Journey CD and Music DVD will be released on Tyscot Music & Entertainment on October 18, 2011.