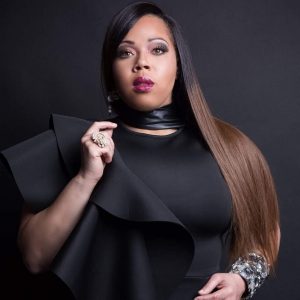 The youngest of nine children and, no stranger to the world of the music and younger sister to the Grammy Award winning Gospel duo "Mary Mary". Shanta has performed on the Soul Train Awards, BET Awards, Jay Leno Show, Arsenio Hall Show and for Oprah Winfrey. She can be heard on recorded projects with Kanye West, Mary Mary, Jason Champion, Al Green and Dorinda Clark-Cole. She has sung for some of the greatest like Natalie Cole, U2, Yolanda Adams and BeBe Winans.
Shanta Atkins has stepped out from behind the shadows & penned & produced her second newly released single "God Sees You" which speaks to the hearts of those battling suicide & depression. This song is a fresh sound and completely acapella. It raises awareness of the inward struggle of many who battle mentally and emotionally and gives them hope that healing will come. Shanta Atkins uses her gift and platform to raise awareness about things that matter. This new song "God Sees You" is available on all digital music outlets as well her first single, "I Will Follow". Shanta Atkins is not only as an artist with a great voice but also an amazing songwriter. You can look out for more music coming from her soon.
With life wrapped in her voice, her spiritual upbringing inspired her to lend her gifts and talents to the forgotten and emotionally wounded. She can be found in impoverished communities across the globe serving and empowering women, men and children. She uses her natural and spiritual gifts and talents to help heal hearts and empower souls.
Shanta is an avid promoter of education and her professional career encompasses the work of a educator, missionary, and activist. She is Executive Director of Love Changes Lives Inc. which is an organization that offers spiritual counseling, personal empowerment, vocal coaching, summer music programs.