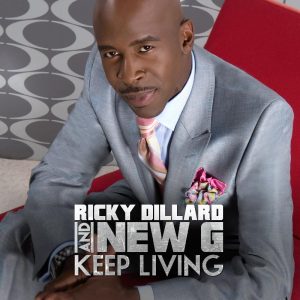 Ricky Dillard and his long established choir New Generation Chorale (New G) are most well known for their energetic style and sound.   Multiple Stellar Award winner and nominee, Dillard has been credited as being one of the most influential choir directors in contemporary gospel music.  He continues to live up to that role on the new album, KEEP LIVING, with signature choir vocal arrangements and melodies taken to a whole other level.
Offering songs that are mature, discriminating and wise, it is clear that Dillard has grown in his approach to music.   New songs like "Keep Living," "He Turned It," and "He Reigns," are definitive and timeless offerings.  "The Sweetest Name" also features special guest Karen Clark Sheard, on which her incomparable vocals soar high.
The lead single, "God Is Great," is an instantaneous classic. Lyrically, the simplicity of the drive, 'God is Great', to the intricate verses, the song immediately gets the listener going. Dillard himself is featured on the song giving it life while his long-time choir, New G's, dynamic vocals and modulation are executed flawlessly.   Quickly embraced by Gospel radio and connecting with audiences, "God Is Great," is currently in the Top 15 on the Gospel radio chart and continues to rise.
Throughout his 20-year career, Dillard has remained committed to advancing music exclusively for the choir.  Choirs are mainstays in our churches around the world and Dillard's music continues to provide them with relevant and contemporary music.
KEEP LIVING available in-stores and online everywhere TODAY.