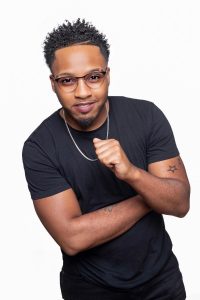 Founder of JamesTown Music – GRAMMY nominated, Billboard Music Award Winner, and seven-time Stellar Award winner JJ Hairston celebrates the success of its newest signee Rich Tolbert Jr.'s single, "Never Be Defeated," debuting number one on Billboard Gospel's Digital Song Chart. The song makes an impressive debut at number one following a string of viral social media posts and highly attended tour dates. JJ Hairston's JamesTown Music, is distributed exclusively by Entertainment One.
Richard Tolbert Jr., affectionately known as "Rich," is an extraordinary worship leader, songwriter and psalmist with an undying passion to reach the heart of God through music. A native of the Bronx, New York, Tolbert's musical journey began at the early age of 10, where he began leading in music ministry within his local church. Tolbert is currently serving as an Executive Pastor of Love Fellowship Tabernacle of Brooklyn, NY, under the senior leadership of Bishop Hezekiah Walker, where he also leads praise & worship every Sunday.
"Rich is an incredible worship leader that is important the genre of gospel music. It is my honor to help present him to the world through my imprint JamesTown Music in partnership with Entertainment One," says JJ Hairston, founder of JamesTown Music.
Entertainment One's Omega George says, "For the past three years or more I have been studying the sound, brand, and artistry of Rich Tolbert Jr. I'm excited about his present and future. He represents who the progressive sound and pace of the Gospel music genre."
Tolbert's "Never Be Defeated" is available for purchase at all major digital retailers. For more information on Rich Tolbert Jr. follow him on social media using the handle @richtolbertjr. For more information on Entertainment One visit entertainmentone.com.