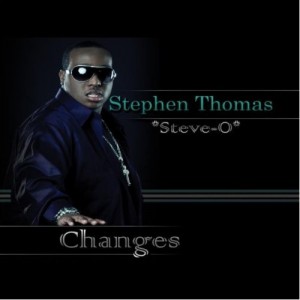 Rhythm and Praise artist Stephen Thomas (aka Steve-O) is set to release his national debut project CHANGES May 19th on Shackles Free Entertainment, LLC which will be distributed by CLG Distribution.  Stephen's first single "True Praiser" has already gained over 9,000 YouTube hits to date and is being released to radio and DJ's now.
Stephen effortlessly mixes his street style with soulful lyrics and praise anthems with the assistance of producer J. Robinson.  CHANGES contains praise and worship, neo soul, and hip hop tracks sculpted from this young man's life which allows him to deliver  remarkable moments at the mic.
19 year-old Stephen is making his mark in the industry with his passion to minister with an urban approach. He has developed a versatile ministry with real talk concerning issues facing young Christians. As a recording artist he understands the responsibility to serve God first and continue to show the goodness of the Lord at all times. Stephen is also an on air personality for 98.7 The Beat in Charleston, West Virginia. His radio show "Steve-O's Holy Hip Hop Show" can be heard every Sunday morning.

"I am blown away by the first single from Steve-O. 'True Praiser' is cutting edge and a new sound that will take this Industry by storm!"  – Z180 Radio
"Steve-O is a voice for the people. In todays hip hop culture it's refreshing to see and hear a young man reaching out to his peers in a way that's easy for them to relate.  It was an honor to work with such a gifted and humble artist. Look out world, Steve-O's on deck."  – Nate "LockSmiff"
"It was a pleasure working with Steve-O in the studio. He's such a hard worker and desires to deliver perfection and the spirit of God in every song lyric." – J. Robinson